15 Things for Kids to Do While Visiting Sunriver, Oregon
Are you planning a family trip to Sunriver, Oregon? If you're traveling with kids, it's essential to have a list of activities that will keep them entertained and make their visit memorable. Sunriver is a beautiful destination with plenty of attractions suitable for children. In this article, we'll explore 15 exciting things for kids to do while visiting Sunriver, Oregon.
1. Go to Fort Rock Park
Fort Rock Park is a must-visit destination for families with children. It offers a wide range of activities, including playgrounds, sports fields, and picnic areas. Kids can enjoy running around on the expansive grassy fields, climbing on the play structures, and playing games with other children.
2. Sunriver Nature Center
For a unique educational experience, take your kids to the Sunriver Nature Center. Here, they can explore interactive exhibits, learn about local wildlife, and even interact with live animals. The nature center organizes various programs and activities that will captivate the curiosity of young minds.
3. Oregon Observatory at Sunriver
If your children have an interest in space and astronomy, the Oregon Observatory is a must-visit attraction. They can learn about the wonders of the universe through educational exhibits, planetarium shows, and stargazing events. The observatory has telescopes that allow visitors to observe celestial objects up close.
4. Get Ice Cream at Goody's
Indulge your little ones with a sweet treat at Goody's, a beloved ice cream shop in Sunriver. They offer a wide variety of delicious ice cream flavors, from classic favorites to unique creations. Let your kids choose their favorite flavors and savor the creamy goodness while enjoying the vibrant atmosphere of Goody's.
5. Bounce House & Slide at the Village
The Village at Sunriver is a hub of entertainment, and one of the highlights for kids is the bounce house and slide. Watch your children jump, slide, and have a blast in the inflatable play structures. It's a great way for them to burn off energy and have fun with other kids.
6. SHARC Aquatic Center
For some splashing fun, head to the SHARC Aquatic Center. This expansive water park offers pools, water slides, lazy rivers, and even a wave pool. Kids can spend hours enjoying the thrilling water attractions and cooling off on hot summer days.
7. Horseback or Pony Rides
Introduce your children to the joy of horseback riding or pony rides in Sunriver. There are stables and equestrian centers that offer guided rides suitable for kids of all ages and skill levels. It's a fantastic opportunity for them to connect with animals and experience the beauty of Sunriver's natural surroundings.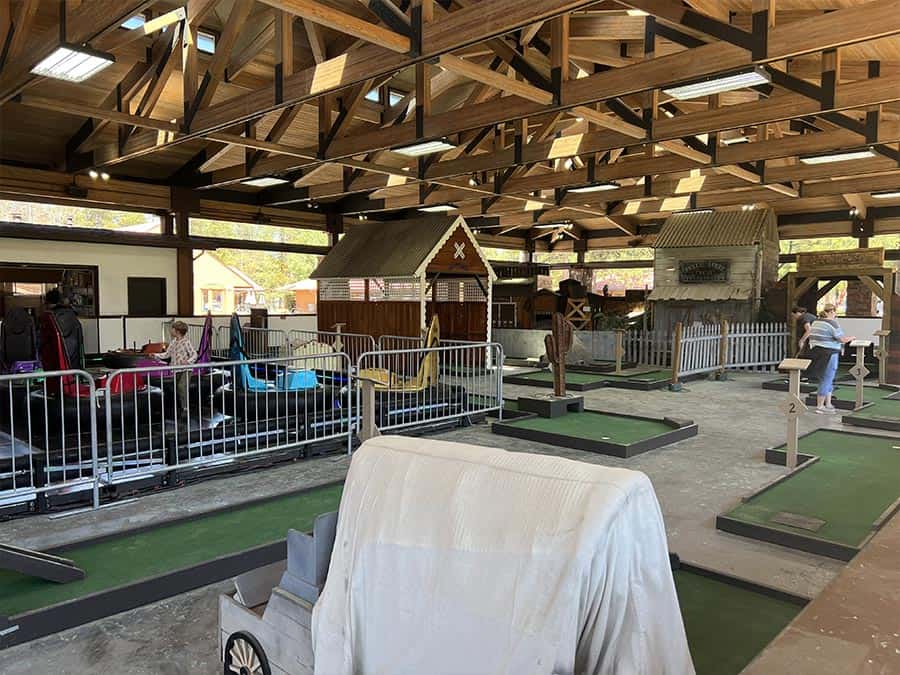 8. Sunriver Fun Center
The Sunriver Fun Center is a paradise for children. It features go-karts, bumper cars, mini-golf, and an arcade filled with exciting games. Your kids will have a blast competing with each other and enjoying the thrilling rides and games available.
9. Ride the Train at the Village
Take a ride on the train at the Village and embark on a delightful adventure with your kids. The train takes passengers on a scenic journey through the picturesque landscapes of Sunriver. It's a fantastic opportunity for your little ones to experience the joy of riding a train while appreciating the natural beauty of the area.
10. Bike the Trails of Sunriver
Sunriver boasts an extensive network of scenic trails that are perfect for biking with kids. Rent bicycles suitable for all ages and explore the breathtaking natural beauty of the area. The trails offer a mix of paved paths and off-road tracks, ensuring a fun and enjoyable biking experience for the entire family.
11. Benham Falls Hike
If your kids enjoy outdoor adventures, a hike to Benham Falls is a great choice. The trail meanders through stunning forest landscapes and leads to the magnificent Benham Falls, where the Deschutes River cascades over volcanic rocks. It's an excellent opportunity for your children to appreciate the wonders of nature and engage in a healthy outdoor activity.
12. Lunch at Sunriver Brewery
When hunger strikes, head over to Sunriver Brewery for a delicious family lunch. The brewery offers a family-friendly atmosphere, tasty food options, and a selection of handcrafted beers for the adults. Let your kids indulge in mouthwatering meals while you enjoy the local flavors and relax in the charming ambiance. The best part is, Sunriver Brewery has a quaint play area that will keep your kids entertained while you eat.
13. Canoeing or Kayaking
Sunriver is surrounded by pristine rivers and lakes, making it an ideal destination for water activities. Rent a canoe or kayak and embark on a memorable water adventure with your kids. Paddle along tranquil waterways, explore hidden coves, and take in the serene beauty of the natural surroundings.
14. River Float Trip
For a more laid-back water experience, consider a river float trip. Drift along the gentle currents of the Deschutes River and enjoy the breathtaking views along the way. This relaxing activity allows your children to connect with nature, spot wildlife, and create lasting memories of their time in Sunriver.
15. Outdoor Movie Night
End your day with a unique and memorable experience by attending an outdoor movie night. Sunriver hosts movie screenings under the stars, where families can gather on blankets and enjoy family-friendly films in a picturesque setting. It's a fantastic way to unwind, bond with your kids, and immerse yourselves in the magic of cinema.
In conclusion, Sunriver, Oregon, offers a plethora of exciting activities for kids. From exploring parks and nature centers to enjoying thrilling rides and water attractions, there's something to cater to every child's interests. Make the most of your visit to Sunriver by immersing your kids in the beauty of nature, engaging in outdoor adventures, and creating unforgettable family memories.
FAQs
1. Is Sunriver, Oregon, a suitable destination for a family vacation?
Absolutely! Sunriver, Oregon, is a family-friendly destination with a wide range of activities and attractions for kids of all ages.
2. Are the activities mentioned suitable for younger children?
Yes, the activities listed cater to children of various age groups, ensuring that there's something enjoyable for everyone.
3. Can we bring our own bikes for the trails in Sunriver?
Certainly! You can bring your own bikes or rent them from local rental shops in Sunriver.
4. Are there any safety measures in place for the water activities?
Yes, rental facilities provide safety equipment such as life jackets, and it's important to follow all safety guidelines and recommendations for a secure experience.
5. Are the outdoor movie nights free to attend?
Outdoor movie nights in Sunriver are typically free to attend, but it's advisable to check for any specific requirements or fees beforehand.