Welcome to the warm, coastal town of Newport, Oregon!
The Oregon Coast is dotted with many charming towns and cities with the magnificent backdrop of the Pacific Ocean. Many of these coastal towns are differentiated by a few unique qualities such as outdoor adventure, incredible shopping, vibrant nightlife, picturesque views, awesome seafood, preserved histories, and private, serene beaches.
Newport, Oregon encompasses most of these qualities in one package! The city is known for its preserved history, an abundance of crab, and impeccable sights. In fact, Newport is most known as the "Dungeness Crab Capital of the World"! If you are a huge crab lover, then Newport is the town for you.
Newport also boasts beautiful, historic beaches such as Nye Beach and Agate Beach. People also enjoy its famous Yaquina Head Lighthouse and the Yaquina Bay Bridge. More than likely, you have seen photos of Newport's Yaquina Bay Bridge. It is a picturesque sight as it stands over the bay.
All in all, Newport, Oregon is a wonderful place to live as you regularly encounter mild weather, the townfolk are pleasant, and the oceanic views are mesmerizing. Since you are considering a move to this lovely place of paradise, let's take a look at some essential details about the town.
Where is Newport, Oregon?
If you're a geography guru and have never heard of Newport, Oregon before, don't worry. 
"Newport is a beautiful little cost town here in Oregon that we love coming to every summer!" – Recent Visitor
Newport is located on the coast in Oregon. It's approximately 144 miles southeast of Portland (2 hours and 59 minute drive) and has an elevation of 134 feet. If you fly into Portland and rent a car, you will have a beautiful drive through Portland then down I5 where you will cross over to head west to the coast at Corvallis. the drive from Corvallis to the coast is gorgeous! 
The Population of Newport
One of the first things I check out before moving or visiting a new city is the population. I want to know how big or small it is! This prepares you for the city's traffic health among other things.
While I consider Newport to be fairly large for an Oregonian city, the population is nothing in comparison to large American cities such as Atlanta, New York City, San Francisco, or Los Angeles.
The population of Newport is a perfect size of 10,500 residents. This means it's a place where everyone knows everyone, you are never lonely but have plenty of privacy, and there is space to breathe.
It's a slightly older population overall with the median age being 44 years. In comparison, the U.S. median age is 37 years. Statistics also show that the number of people per household averages around 2.1 persons.
The family statistics for Newport, Oregon are listed below:
52% of the population are married.

15% of the population are divorced.
22% of the population are married and have children.
19% of the population are single and have children.
I always include statistics because it helps a person to determine the best place for their current and specific situation in life. It's helpful to know information like this if you are wanting to move to a town for retirement, for great family life, for privacy, for employment, and more.
Newport and Neighboring Towns
Newport is located on the western coast of Oregon in Lincoln County. The city has molded itself around the picturesque Yaquina Bay that empties into the great Pacific Ocean. The equally popular coastal town of Lincoln City is a mere 20 miles north from Newport. The larger city of Corvallis is 49 miles due east on the convenient Corvallis-Newport Highway.
If you are like me and want to know the neighboring towns and cities before you move to somewhere new, then check out my list below. I have listed the nearby cities and towns to Newport as well as their distance and direction from Newport. I hope you find this to be super handy and useful!
Cities and Towns near Newport:
Toledo: 8 miles. SE

Depoe Bay: 10 miles. NW
South Beach: 7 miles. SW
Siletz: 9 miles. NE
Seal Rock: 11 miles. SE
Waldport: 15 miles. SE
Rose Lodge: 13 miles. NW
Gleneden Beach: 15 miles. NW

Lincoln City: 20 miles. NE

Blodgett: 20 miles. SE
Yachats: 24 miles. SE
Neotsu: 23 miles. NE
Corvallis: 49 miles. E
Salem: 81 miles. NE
As you can see, Newport has plenty of neighboring towns and cities should you ever have to venture out of Newport for anything other than fun and adventure. Although, I should warn you: Oregon is all about fun and adventure! Whether you are in an Oregonian city or in the remote countryside, adventure is always waiting for you.
I would also like to add that of all the cities and towns listed, Corvallis is the largest city with roughly 59,000 residents. The Corvallis-Newport Highway offers quick and convenient access between Corvallis and Newport.
Geographical Landscape and Climate for Newport
As I mentioned earlier, Newport is located on the western coast of Oregon in Lincoln County. It has a mild, wet climate that is often seen on the northwestern coast. While it is generally wet throughout the year, the wettest months are in the wintertime. To give you an idea of how much rain Newport receives, the city measures, on average, 77 inches of rain per year. So, I highly recommend an umbrella or two! The city doesn't receive much snow as it averages approximately one inch of snow per year.
The average summer high temperature for the month of July hovers around a mild 69 degrees Fahrenheit. Don't worry; the winter temperatures do not reach Arctic levels of cold! The average low temperature for wintertime is around 40 degrees Fahrenheit. Overall, the temperatures fluctuate year-round within a 30-degree difference.
Fun fact: Newport has an annual average of 156 sunny days out of 365 days a year. For comparison, the U.S. averages 205 sunny days per year.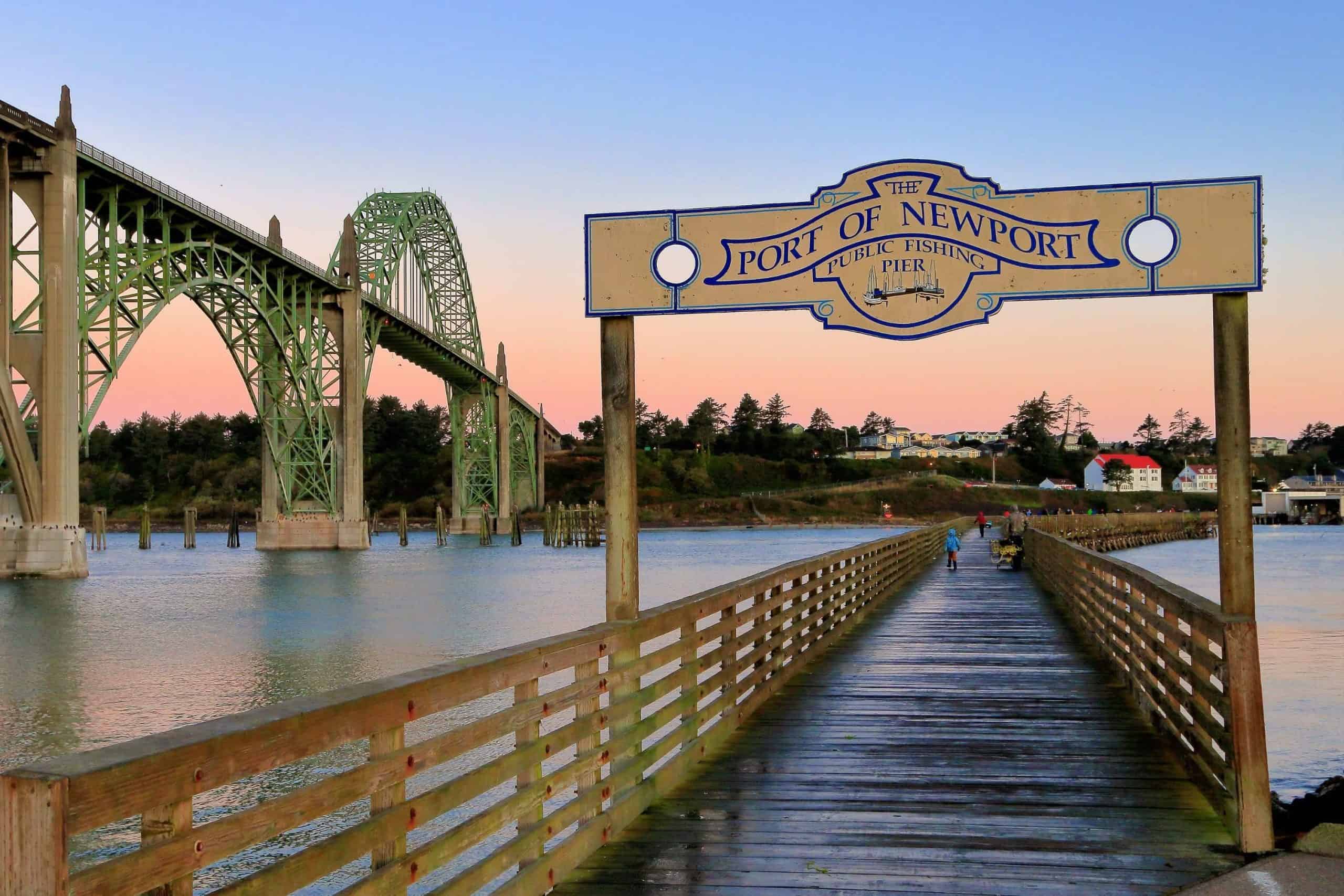 The Recreational Activities in Newport
Newport offers quite a selection in the realm of recreational activities. In fact, there is so much to do, that I can only select a few activities to share with you here. Let's take a look at some of the most popular things to do in Newport!
The Yaquina Bay Bridge is the perfect backdrop for photos.
The Yaquina Bay Bridge is probably the most familiar picture that anyone sees first of Newport. Photos of the arched bridge have made its way into many magazines, films, and photo shoots. The bridge was constructed in 1936 and has been listed on the National Register of Historic Places. You cannot visit Newport without checking out its infamous bridge!
Go crabbing in the Yaquina Bay! Newport is known as the "Dungeness Crab Capital of the World".
If you are a lover of seafood, then moving to Newport is THE place for you. The city is known worldwide for its large and tasty dungeness crab. Folks have been catching these crab in tremendous numbers for years. You can catch crab from the docks by the bay or from a boat on the bay. However, be sure to get the regulation necessities before you embark on your crabbing spree. You can find out about everything you will need in the "Oregon Sport Fishing Regulations" booklet. To sum it up, you will need an Oregon shellfish license and a crab gauge for measuring the crabs. The state's booklet will educate you on the details for what you're allowed to keep and which crabs must be returned to the bay.
Have fun on the historic Nye Beach!
Everyone enjoys visiting Nye Beach. It is almost like a town within a town! Nye Beach is great for peaceful strolls, quilt picnics, and photo ops. You will also find an array of restaurants and shops to enjoy eating at and browsing through on your day at the beach. The great news about living in Newport is that this will be your everyday life!
Yaquina Head Lighthouse is a must-see.
The Yaquina Head Lighthouse is more than just sugar to the eyes; it is a must-see. It stands boldly and tall on Yaquina Head and overlooks the sea from 93 feet in the air. In fact, it is the tallest lighthouse in all of Oregon!
Interestingly, the Yaquina Head Lighthouse has also been featured in a few Hollywood movies and television shows. (Are you surprised? I'm not. Oregon and Hollywood have a love-love relationship. It truly is an awesome place!) The spooky movie, The Ring has a scene of the Yaquina Head Lighthouse in it. In the film, it is called the Moesko Island Lighthouse. The lighthouse has also been featured in the film Hysterical as well as the famous television series, The Nancy Drew Mysteries. You will find it in the episode titled, "The Mystery of Pirate's Cove".
Newport has higher employment in the agricultural, forestry, fishing, and hunting sector than most places in the United States. This is partially due to the high count of crab and other shellfish that live off the coast and in the bay. Other popular job sectors include food service, healthcare, and retail trade.
The most specialized job sectors in Newport are agricultural, forestry, fishing, and hunting, utilities, public administration, and food service.
And believe it or not, the highest paying job sector in Newport is in utilities.
Currently, the unemployment rate for Newport is at 4.5%. For comparison, the U.S. average unemployment rate is at 3.7%. (Keep in mind that some folks who live in Newport may be employed by companies in neighboring towns or cities.)
Oh! I can't forget to mention this: The National Oceanic and Atmospheric Administration relocated its base for research ships to Newport from Seattle. This employs approximately 110 residents in and around the Newport area.
So, what is the average household income for a Newport resident?
The average household income is $40.448 per year. That isn't too bad!
What are the tax rates for Newport?
I have the tax rates for Newport listed below:
Sales Tax Rate: 0.0%. (I know, strange, right? When you reside in a state where a sales tax has been implemented your whole life, it feels like Christmas to see a 0% sales tax. In all of Oregon, the citizens are free from sales tax!)
Income Tax Rate: 9.0%. (I know, I know. That Christmas gift just felt like a low blow, didn't it? Believe it or not, most Oregonians prefer it this way. If taxes must be paid somewhere, why not take them out of your paycheck since everything else is taken out of your paycheck? Plus, when you purchase an item from the store, you know that you will pay exactly what is stamped on the sales tag!)
Although I can't possibly fit all of Newport's magnificent history here in this tiny little section of the web, I can definitely share a few highlights.
The Yacona Indians inhabited the region for more than 3,000 years before it was discovered by European and American explorers. Eventually, the Yacona Indians were moved to the nearby Siletz Reservation in the mid-1850s. It was also around this time when a ship called Juliet got stuck on the coast and discovered, by accident, that the area was rich in oysters. Businessmen and entrepreneurs from all over the world flocked to Newport for this profit opportunity.
As oyster companies were opened, the first hotel was constructed in the mid-1860s. Between the booming oyster business and the flood of tourists who started to visit the area, Newport began to really take off. This showcased a serious need for a post office! The first post office was established in Newport in 1868. (The town was named after its namesake in Rhode Island.)
And just as history would show it, Newport is still the largest city on the coast of Central Oregon. Prior to the year 1884, people who traveled to the city could only get there via boat from nearby Elk City. It was in 1884 that the railway tracks were completed between Corvallis and Yaquina City. (Yaquina City is across the bay from Newport and was created by the assembly of railroad workers.)
Obviously, more people flooded into Newport when the railroad opened in 1884. It was during this time that Nye Beach began to blossom as a favorite place to visit and tour. Named after the settler who claimed the beach property, John Nye, small hotels, restaurants, and sea baths opened along the sandy shores. One of the original hotels is still standing to this day and listed on the National Register of Historic Places: Sylvia Beach Hotel. You should check it out!
During the Great Depression, everyone on the Oregon Coast was struggling economically. Thankfully, the government intervened and brought an employment opportunity to the residents of Newport: the construction of the infamous Yaquina Bay Bridge. Construction for the bridge started in 1934 and ended in 1936 when it opened to the public. Not only did this project provide jobs to construction workers, but the bridge offered easier access to the city via automobiles.
Real Estate and Relocation Considerations in Newport
Like everything else in Newport, the real estate business is flourishing and growing. I mean, who doesn't want to live on the beach? Especially in an area where the temperatures are always mild: It is never too hot and never too cold!
The home prices in Newport are not that bad considering their close proximity to the beach. (And let's not forget the homes that are literally ON the beach.)
So, what is the average home cost for a typical 3-bedroom, 2-bathroom, single-family house in Newport?
The average home price is approximately $295,000. You can also find home prices that are much higher and much lower depending on the square footage, location, age, and quality of the home. But, generally, the average real estate price is $295,000.
You should also know that the home appreciation percentage for the last decade has gravitated around 16.4%. It has increased 9.8% in the last few years.
Now let's talk about the average age of Newport homes.
When you are moving to an older town, you expect to find some older homes. However, when the town is as large as Newport, that means with population growth, there are also new homes. And with new homes, there are likely to be fewer issues and repairs to be made than the older homes. (However, Newport is really great at selling historic homes with repairs and issues already resolved. The residents truly treasure the restoration of historic homes and the maintenance of them.)
The average home age in Newport is actually young at 39 years.
What about Renting?
The rental market is actually quite large in Newport. This is especially true for newcomers to the city and for young folks just starting out on their own. Approximately 38% of Newport's residents rent their homes. You can find rental properties such as apartments, single-family houses, townhouses, condos, and mobile homes.
Explore Neighborhoods in
Newport
Moving to Newport can be a big decision for many, especially families. It is always good to research the different areas and neighborhoods before you make any kid of move. We are here to help with that process.
Below is a list of different neighborhoods in Newport. Each neighborhood has a link to a page further talking about it.
We Look Forward to Seeing You in Newport!
Now that you've been given the brief overview of the lovely town of Newport, what do you say? Are you ready for that move? Spend the day in Newport and think about it more. You'll meet friendly people and make new friends. Newport, Oregon has so much to offer!
While the Oregon coastline is rural compared to other coastlines in the United States, more people are moving to the area.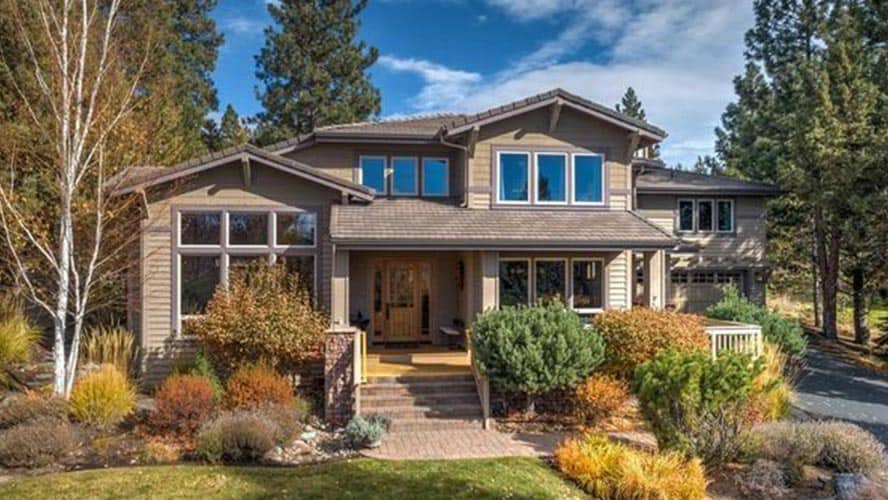 Many people visit Central Oregon every year and fall in love with its spectacular views and acres of untouched land.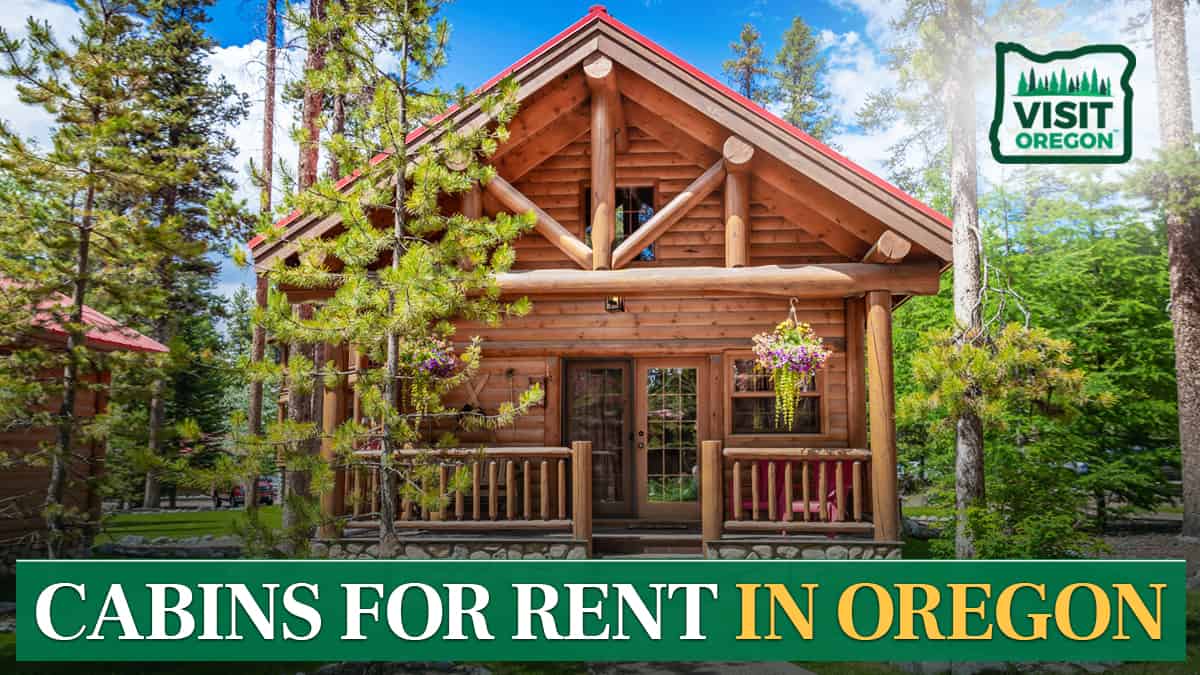 30 Unique & Secluded Cabins Rentals in Oregon Everyone dreams of a secluded retreat, tucked
Read More »