CRATER LAKE
NATIONAL PARK
Crater Lake National Park
Crater Lake is a place of mysterious beauty. The lake itself is most known for being the deepest lake in America and for having pure, crystal clear, bright blue water. Its depth stretches 2,000 feet into a sinking abyss that was, at one time, Mount Mazama. Many Native American legends explain the sudden and abrupt collapse of Mount Mazama, a one-time active volcano. After Mount Mazama dramatically plummeted into the Earth, the massive cavity was steadily filled with water from years of snowfall and rain. Not a single stream or river flows into the pristine water source; therefore, it is lacking many of the minerals that are often found in traditional rivers and lakes. The lack of various minerals is the contributing factor to Crater Lake's brilliant blue water. This deep blue gem is known as one of the seven wonders of Oregon.
Surrounded by the majestic Cascade Mountains and sitting at an elevation of 7,000 square feet, Crater Lake National Park is a sight to see. Located in Klamath County, Oregon, the nearest city to the national park, Klamath Falls, is 60 miles to the southeast. Medford, Oregon is 80 miles to the southwest. So, it is safe to say that Crater Lake National Park is a remote place where solitude and beauty simply abound.
If you are like me and enjoy finding new places to explore, Crater Lake National Park should be added to your "must-see" list! To further pique your interest, please check out the random facts about Crater Lake listed below.
1. Crater Lake receives, on average, 43 feet of snow a year!
It may surprise you to know that Crater Lake receives more snow than almost anywhere else in the United States. This is largely due to its high elevation in the Cascade Mountains and its position between the mountains and the ocean. The location and elevation provide the perfect recipe for the white stuff! You should know that the winter season stretches from November until April in Crater Lake National Park. And even then, you can still see snow well into June! The most popular travel time for tourists to Crater Lake is July to October. I suggest that you take snow boots and coats during those months as well. Just because it is summer at Crater Lake does NOT mean it is warm weather!
2. Only at Crater Lake will you find the unique creature, the Mazama newt.
This unique lizard, also known as the Crater Lake Newt, calls Crater Lake national park home and refuses to venture out anywhere else. They are beautiful, rare creatures to stumble across while venturing around the lake's edge. If you are lucky enough to have a camera on hand, try to capture a photo! These colorful lizards are not found anywhere else in the world.
3. Islands climb out of the lake.
As if you didn't think Crater Lake could possibly be any more interesting than it already is, then let me blow your mind some more. Just like a scene out of a movie, islands climb out from underneath the water's surface. The most popular island to visit inside Crater Lake is known as Wizard Island. It stands an astounding 750 feet from above the water's surface and offers an alluring sight for the adventure-starving eyes. During the summer months, tour guides offer boat tours to this mysterious island. If you are really looking for an adventure, wear your hiking boots so you can climb the 750 feet to the island's summit!
Another infamous island that climbs from the lake's brilliant blue waters is Phantom Ship Island. I was surprised to learn that most tourists do not know about this mysterious island. I suppose that is why it is named Phantom Ship Island. The island is not as tall as the infamous Wizard Island as it stands the height of a 16-story building. Some people say that the island's shape looks like a sailboat that beckons for someone to take a ride. (Only the most devoted adventurers couldn't resist that sort of temptation!) Interestingly enough, the island is actually the oldest inside Crater Lake and consists of hardened lava from thousands of years ago. You can actually snatch an excellent view of this mysterious lava island from the Phantom Ship Overlook that is accessible by car. Other people snatch their peeks at the lava island by lacing up their hiking boots and hiking to Sun Notch. It is a sight that you don't want to miss out on.
4. Rim Road, which outlines Crater Lake, has over 30 scenic stops.
The purpose of traveling to Crater Lake National Park is to soak in the breathtaking, mesmerizing beauty. The national park officials have made it possible for visitors to drive the entirety of the caldera rim for viewing its many spectacular wonders. I have listed some of these viewing spots below.
Vidae Falls
View a mesmerizing waterfall
Pinnacles Overlook
View 100-foot tall, volcanic rock formations
Discovery Point
View the first sight of Crater Lake as experienced by John Hillman, the pioneer who discovered it.
Pumice Castle Overlook
View volcano pumice rock that resembles the shape of a castle.
Watchman Overlook
View the lake at sunset as it offers the best view. You can also hike Watchman Peak Trail from this scenic stop to get even better views of the lake!
Merriam Point
View the lake with plenty of parking space to have a picnic!
Cleetwood Cove Trail
This is the only trail that will lead you to the only legal swimming spot on Crater Lake. And be warned: The water is usually very COLD.
Castle Crest Wildflower Garden Walk
A great place to stretch your legs and view the magnificent colors of Crater Lake wildflowers. (The wildflowers are only there during the summer months.)
Overall, Rim Road stretches for 33 miles on the edge of Crater Lake. If you were to drive it fully without making a single stop, it would take approximately 30 minutes to complete it. However, with so many stops along the way, you can easily turn this into a day trip. Don't worry, there are also several resting places for taking a bathroom break and grabbing some grub. Mazama Village and Rim Village are both places where you can stop, grab something to eat, purchase a souvenir or two, or maybe three, refill your water bottles, and take a bathroom break.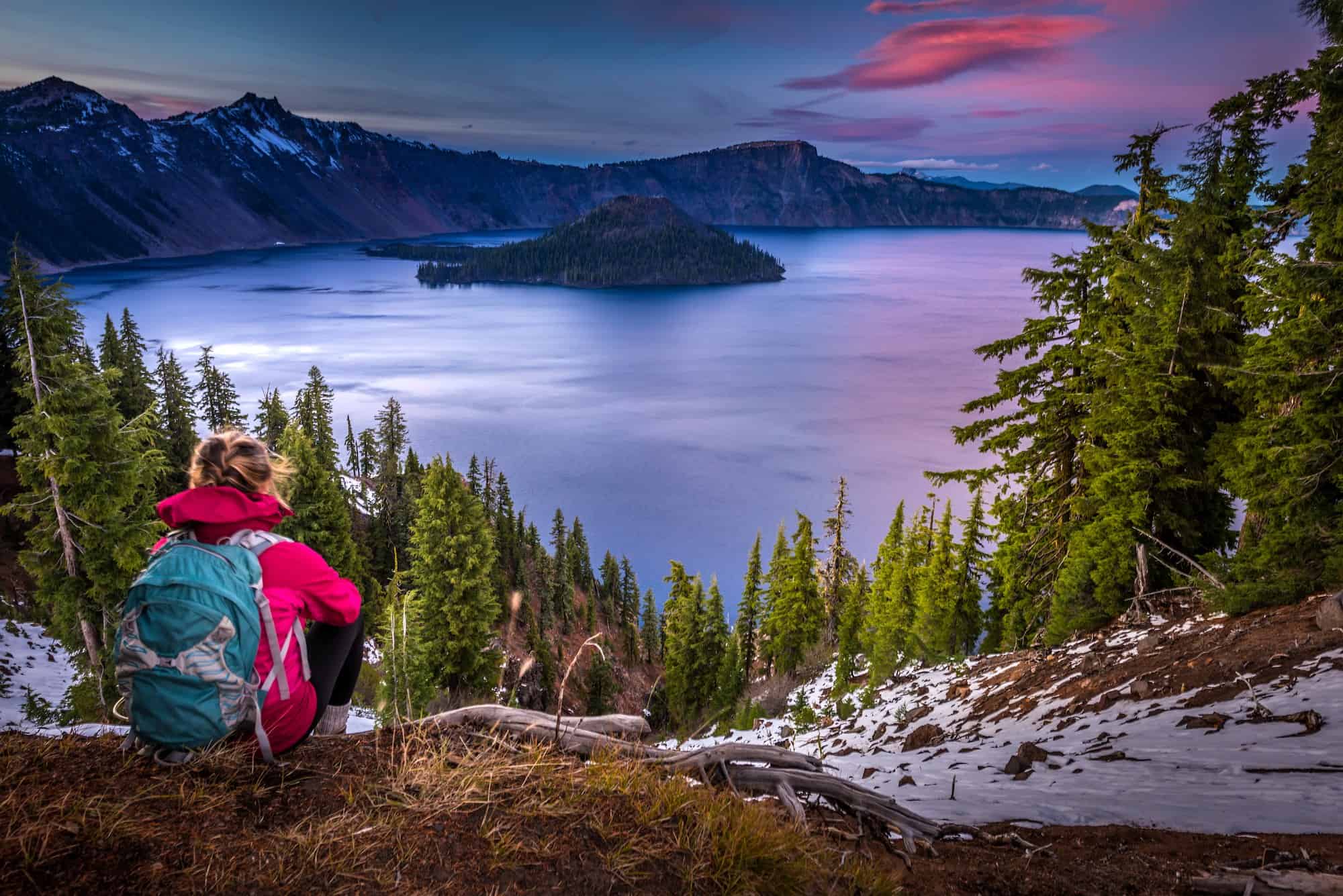 5. Crater Lake is a fun place to test out your bicycle!
If you are searching for a great place to practice your cycling ability with the advantage of incredible views, Crater Lake is your dream location. It offers a blend of landscape options to test your endurance abilities such as steep hills and long stretches of road. Or, perhaps you prefer a more leisure bike ride without the strenuous workout session. You can find places along the rim that offer easy bike trails with spectacular views. Furthermore, Crater Lake has a special biking event that may pique your interest: Ride the Rim. This event involves closing Rim Road to vehicles for two days every year just so cyclists can partake in the incredible journey around the rim. It is a wonderful experience that you won't want to miss!
6. Crater Lake has a fire season during the summer.
When most people think of forest fires, they think of them as being dangerous to the environment, the animals, and the entire ecosystem. While the fires can be dangerous to humans and animals, it is actually an essential part of Crater Lake's sustainability in nature. These fires develop naturally every summer and are crucial to restoring nutrients to the ground for continued plant growth. Many plants have become resistant to fires over the years! While this natural occurrence has many positive benefits for Crater Lake's ecosystem, it is not recommended to place yourself in harm's way by approaching fires. The national park advisors will close off areas of the park that are affected by the seasonal fires. To be on the safe side, learn fire safety tips should you ever find yourself out there and accidentally come across a developing fire.
7. Discover the spectacular tree life in Crater Lake National Park.
In addition to being home to the deepest lake in the country, Crater Lake National Park is also home to several forest ecosystems. If you are a lover of plant life, you will not want to miss out on this. The national park has four zones of different types of forest life in which you can explore and enjoy.
As you can see, each zone is named after the tree species that are most dominant in the zone. These forests are very old and carefully preserved by nature. Depending on the time of year in which you visit, you can either hike through these old-growth forests or snowshoe your way through them. Keep in mind that the winter snow can linger through until early August! Be prepared and take a pair of snowshoes just in case. Most importantly, don't forget your bottled water and camera. Some of the most amazing photos are taken in these forest zones.
8. Crater Lake has the darkest nights in the United States.
If you visit Crater Lake National Park at nighttime, you will likely experience the darkest night you have ever encountered. The advantage to this is the ability to view the Milky Way in a way you never have before! When the night skies are clear, you will see an abundance of stars that you will likely have never noticed before. The numerous sight of them is astounding. Distant planets stand out brighter than any other area in the country. Furthermore, you can even view satellites that orbit the Earth!
I suggest downloading a stargazing app on your phone that allows you to see the names of stars, planets, and satellites as you view them in real-time. If you have a telescope, take it with you!
9. The collapse of Mount Mazama created Crater Lake.
As previously mentioned, the collapse of Mount Mazama created the lake in which we know and love today. We know that Mount Mazama was a giant volcano that stretched 12,000 feet toward the sky. The volcanic mountain was a special beacon for the Makalak people thousands of years ago. As oral tradition recorded it, the Makalak people described the volcanic collapse as a massive spiritual battle between the mountain and the sky. The native people considered the battle won by the sky spirits when the volcanic mountain collapsed into the Earth. It is believed that the mountain was considered sacred to the native people, thus causing them to mourn the loss of Mount Mazama tremendously. It is history such as this that can be explored while visiting Crater Lake National Park. Why hasn't Hollywood made a movie about this yet?
10. The wildlife viewing is incredible.
Lastly, whenever you visit somewhere that involves mesmerizing nature views like Crater Lake, you can't forget about the wildlife. When I drove around Crater Lake National Park on Rim Road, I saw many deer who roamed the high altitudes with ease and grace. The area is populated with many birds, amphibians, fish, bobcats, and elk. If you are a photographer, visiting Crater Lake will give you plenty of opportunities to capture wildlife photos. However, if you decide to hike the trails, be aware that bobcats do roam the area. While they are beautiful to see, they should never be approached or fed. They can be a danger to humans if encountered too closely. Otherwise, enjoy the wildlife sights in addition to the spectacular scenic views.