Oregon Coast Towns
Let's play an old childhood game of, "I Spy".
I spy something blue. I spy something sandy. I spy something rocky. I spy something magnificently beautiful with refreshing sea breezes, gorgeous sunsets, historical lighthouses, and mild temperatures.
Can you name my location?
Ah, yes. The great Oregon Coastline! The breathtaking Oregon Coast stretches along the Pacific Ocean for approximately 363 miles. It's dotted with peaceful, serene coastal towns and cities such as Cannon Beach, Seaside, Pacific City, Coos Bay, Lincoln City, and Arch Cape.
In fact, Oregon has a variety of coastal towns. If you prefer trendy towns, you will find them on the northern coast. If you prefer simplistic towns, you will find them on the southern coast. The Beaver State has a beach town for everyone!
What are your beach town preferences? If you are indecisive or merely unsure of what you want, I have compiled a list of information and fun stuff on several key coastal towns in Oregon. Whether you are planning on visiting the Oregonian coastline or moving there, it will be easier to choose your destination when you know all about it!
Let's dive in and take a look at some of Oregon's greatest coastal towns and what they have to offer!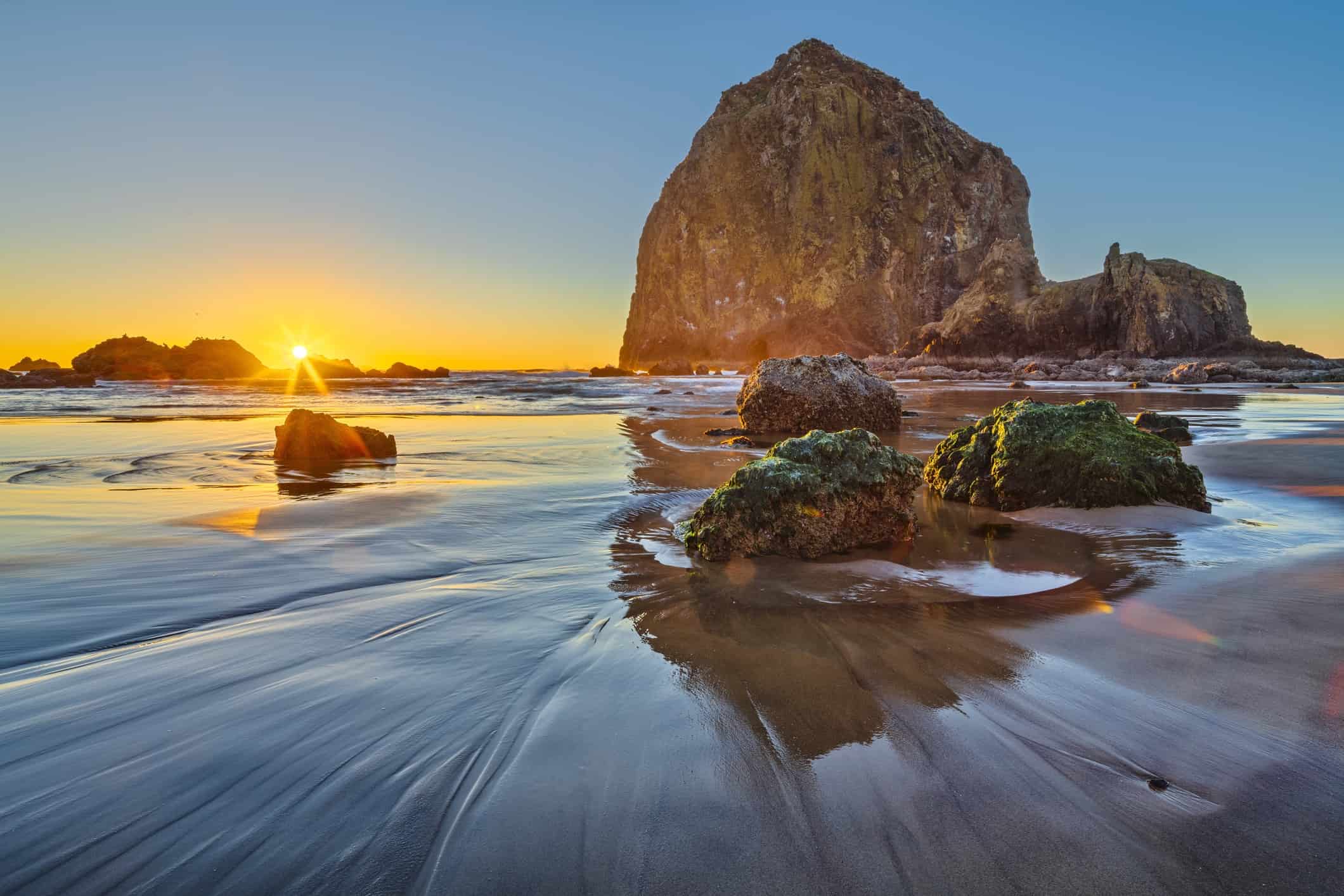 1. Cannon Beach, Oregon 
Cannon Beach is, undoubtedly, the most popular beach town on the Oregon coast. It is one of the most well-known beach towns in the world!
"Why?" you ask?
If you have never heard the name, "Cannon Beach" before, I guarantee you have seen images of the famous Haystack Rock somewhere. If you enjoy watching movies, as most people do, I bet you have watched, "Twilight" and "The Goonies".
Are the beach scenes coming to your mind now?
Most people remember "The Goonies" by its classic beach scenes with the mysterious, large rock that stands tall in the shallow ocean waters. That rock is Cannon Beach's Haystack Rock. Hollywood loves Cannon Beach so much that even they keep returning to its mesmerizing beauty and photogenic landscapes.
Now that I have piqued your interest, here are some of my favorite adventures in Cannon Beach:
* Enjoy a beach stroll by Haystack Rock
Cannon Beach is located on the northern coast of Oregon in Clatsop County and has a population of 1,775 residents.
I am a huge fan of the movies, "Twilight" and "The Goonies". Therefore, it is a dreamy opportunity to walk on the same iconic beach with the same legendary rock that is on full display in those films.
And I know that I am not the only one who shares the same desire! Not only are those films legendary, but they helped make Cannon Beach legendary as well. Haystack Rock, more specifically, literally put Cannon Beach on the map!
Anyway, enough chatter on the Hollywood fandom and back to the basics. It is a short stroll to Haystack Rock and worth every single step. There's not any particular or designated access point. You can reach Haystack Rock from any beach access point. Cannon Beach has several areas in which you can enter the beach. Choose an access point and start walking! Don't worry; this isn't some strenuous hike that requires walking sticks and special gear. Dress comfortably in whatever you would normally wear to the beach and enjoy your stroll.
During high tide, the water rises around the base of Haystack Rock so you can only view it from the beach. During low tide, you can get closer to the rock and even observe the fish and other creatures in the surrounding tide pools. All in all, it's a breathtakingly beautiful landmark and one that cannot be missed while visiting Cannon Beach.
* Embark on a nature trail experience at Ecola State Park
Ecola State Park is located in the center of Cannon Beach and draws in visitors from all over the country. It gives you the classic Oregonian experience by offering a multitude of nature trails to explore. The park's stretch of nine miles offers adventure seekers a plethora of sightseeing opportunities. Visitors are greeted by the Sitka Spruce Forest which offers a green and lush sight for the eyes and the regenerating scent of spruce trees. The forest eventually dissipates into a grassy open area that reveals the magnificent view of the Pacific Ocean. You will find yourself standing atop a giant bluff amidst a world of gigantic, natural wonder. The beauty is so encapsulating that it humbles you into the reality of how tiny you are in comparison to the great, big world in which we inhabit. The experience is enthralling. From this view, you will see the great Haystack Rock and other large rocks that dot the coastline like chess pieces. For as far as the eye can see, the curvy coastline stretches out like a live painting.
And, might I add, no one should experience it without a camera.
Many folks enjoy strolling, hiking, exploring, surfing, picnicking, and observing at Ecola State Park. (Personally, it's a wonderful place to pack a picnic lunch and soak in Mother Nature.) One of the favorite trails to explore is the Clatsop Loop Trail. It extends for more than two miles and takes you back in time through the days of Lewis and Clark. The history displayed on the trail combined with the backdrop of Oregonian nature is truly a rewarding experience.
Keep in mind that Ecola State Park is a popular place! Sometimes, the ability to find a parking space is difficult. I advise arriving early if you're visiting during a peak period.
* Participate in something unique! The Sand Castle Construction Contest!
Who doesn't have fun building a sandcastle? You can't visit the beach without investing some of your time in sandcastle construction! Cannon Beach takes this all-time favorite activity to the next level with their very own Sand Castle Construction Contest! If you think you have what it takes to walk away with the trophy, sign up for their annual contest. It's always held on the beach near Haystack Rock.
2. Seaside, Oregon
The gorgeous beach town of Seaside, Oregon is a short 12-mile drive north of picturesque Cannon Beach. Seaside is significantly larger than Cannon Beach with a population of 6,600 residents. In fact, Seaside attracts more tourists and visitors than iconic Cannon Beach! If you are in search of a coastal town with tourism vibes, this may be your ideal vacay stay.
Some visitors frown upon Seaside's popularity because it doesn't have some of the unique natural landmarks like that of Cannon Beach. I mean, come on, it is literally next door to some of the greatest natural landmarks in Oregon! Pushing aside the mixed opinions, Seaside, to most people, is a serene paradise.
I have gathered a list of my favorite activities while in Seaside. Perhaps one or two of them will make it on your bucket list!
* Seaside is known around the world as having one of the best surfing waves. Grab your board and go surfing!
Let's face it. The Pacific Northwest has the reputation for great surfing conditions. The trick is knowing where the best surfing locations are within the best surfing area. Seaside is one of those best of the best surfing places in the Pacific Northwest. Surfer pros from all over the country flock to Seaside in order to take advantage of some of the killer waves. If you are a surfer pro, then I am giving you information that's worth a pot of gold! And if you're not a surfer pro, Seaside has a ton of surfing instructors and beginning courses for you to partake in.
Regardless of your surf expertise, Seaside has incredible water conditions for playing in the waves. I, personally, enjoy a good, solid boogie board! On a warm, summer day, not much can compete with the thrill and excitement of riding a good wave back to shore.
* You can't visit Seaside and NOT take a stroll on its famous, seaside promenade! (Yes, I used a double negative in that sentence.)
Remember how I said earlier that for most people, Seaside is a serene paradise? One of the most popular and romantic places in Seaside is its famous promenade. People in town often refer to as, "The Prom". This beautiful walkway stretches over a mile and a half and trails side-by-side the Pacific Ocean. Not only does the promenade guide you along the alluring coastline, but it also guides you to impeccable views of Tillamook Head and sandy dunes covered in beachgrass and happy seagulls. And may I suggest one thing: The most gorgeous times to stroll the promenade is either at sunrise or sunset. In those moments, the world becomes a live painting enriched with bold, striking colors. It is not something you would want to miss!
* Visit the Seaside Aquarium and feed the seals!
The Seaside Aquarium is not just any aquarium; it's home to many of the Pacific Northwest's native seals! If you or any of your loved ones are huge fans of marine animals, the Seaside Aquarium is a must. It is there where you can feed the seals YOURSELF. It is a tradition that has continued for more than 80 years.
The seals are so used to being fed by visitors that THEY EXPECT IT. Spoiled rotten is not even the best description for these friendly, loving seals. They are a part of the Seaside family. No worries; this is a safe activity for everyone of all ages. The only drawback for me is touching the chopped fish that is fed to the seals. Yeah, that isn't my cup of tea, but it may be yours!
* Go kayaking on the Necanicum River.(Or, canoeing, if that floats your boat. No pun intended!)
The Necanicum River flows through Seaside and empties into the Pacific Ocean. Many folks in Seaside LOVE to take a day and kayak down the river. The views are especially awe-inspiring when the river takes you to the beach. It's an experience that simply must be had. If you don't own a kayak, the town has plenty of places where you can rent one.
And, if you are not particularly fond of kayaks, you should try a paddleboard or canoe. The town loans them to folks every day. Check it out!

3. Pacific City, Oregon
Located in the cheesiest county of Oregon, Tillamook County, is the small town of Pacific City. Even though this cozy beach town has 1,000 residents, it's a place where you never feel alone and always have privacy. Folks from around the country travel to Pacific City, Oregon to soak in the simpler life on the beach!
From riding horses on the beach to exploring Cape Kiwanda, Pacific City has plenty of adventures to embark on. Let's take a closer look at some of Pacific City's favorite activities and adventures.
* Rent a horse (or take a riding lesson) from Green Acres Beach and Trail Rides.
This is an incredible experience for anyone of all ages. It doesn't matter if you're an equestrian pro or if you have never taken a horse ride, this is worth checking into. For most people who do not live on the coast, it's the epitome of romance or adventure to have the opportunity to ride a horse on the beach. I mean, the scene has made its way into many films over the years. So why not make it a reality?
In fact, the Internet has crowned Green Acres as the #1 thing to do in Pacific City. That's a fairly substantial award, don't you think?
So, what does Green Acres have to offer? Let's take a look at some of their equestrian packages.
Take a one hour horseback ride on the beach.
For one hour, you can enjoy riding a horse on the beach. Imagine yourself mounted on the horse as he trods through the ebb and flow of ocean waves without a care in the world. These horses are accustomed to beach life, so you should be, too! The horseback trail takes you to Bob Straub State Park where you will turn around and visit the sand dunes on your way back to the stables. This ride offers some incredible views and is available for folks of all experience levels whether an expert rider or a beginner.
Take the two hour horseback ride and tour the park.
With this beach riding experience, not only will you ride up to the park, but you will explore it. You won't ride on the beach for very long as you will turn and ride toward the famous Nestucca River. There, you will follow the river until it leads you to the sand dunes. While the horses love the steep dunes, it's purely up to you whether you want to ride up and down them or not. Some riders prefer to ride the steep dunes and others prefer to return to the beach. Whichever you are more comfortable with is up to you!
Take a special proposal ride for that special moment in your life.
Have you found the love of your life and want to pop the question in a unique yet romantic way? Green Acres has the perfect setup for you and your sweetheart! They have it all planned out for couples, and they even proclaim that they have not failed yet! The horseback ride includes a romantic ride on the beach to a secluded sand dune that overlooks the cape and has the majestic Haystack Rock in the distance. It is there where you can get down on one knee and ask one of the most important questions in your life.
It will be a moment in which you and your sweetheart would never forget!
* Explore the beautiful Cape Kiwanda State Park and don't forget your camera!
Cape Kiwanda is another main tourist attraction in Pacific City. It is the cape that starts the infamous Three Capes Scenic Route and continues down the road for 40 miles until you see all three capes.
When you visit Cape Kiwanda State Park in Pacific City, the views will encapsulate you. The cape extends out in the blue waters of the Pacific and is absolutely breathtaking when the ocean waves crash into its jagged, rock edges. From Cape Kiwanda, you will see the splendid Haystack Rock standing boldly in the distance. It really is like a scene from a movie. Quite frankly, it's no surprise to me why Hollywood films so many movie scenes in the area!
When folks visit Cape Kiwanda, they enjoy a wide range of activities such as taking photographs, taking long strolls, flying kites, having picnics, whale watching, fishing, and hang gliding.
The natural wildlife on the cape is a joy to observe from a safe distance. If you carry a pair of binoculars with you, be sure to find a good location and look for whales. During certain times of the year, whales migrate through the waters of the Pacific Northwest. You can view them the most during late December and late March as they migrate between Mexico to Alaska. It is a captivating sight for the eyes when you witness a whale from the cliffs of Cape Kiwanda. It's an even better sight if you witness a whale breach! (The park does have fencing installed on the edge of cliffs. This makes sightseeing and observing safe for everyone.)
* Be a part of the classic Pacific City Dory Days Festival. Nowhere else in the country has boats like these.
Pacific City is home to the historic dory fleet. If you are wondering what a dory is, then no worries as you are not the first one to ask! A dory is a flat bottom boat that is carefully designed to take off into the Pacific's pretty intense wave action right off the coast of Cape Kiwanda. The dory boat design was created in Pacific City about a century ago. It is most often used for fishing trips or for sight-seeing around Cape Kiwanda.
The residents of Pacific City take great pride in their tradition of using the dory boats and celebrate their creation every year with the Pacific City Dory Days Festival. This festival is a BIG DEAL to the folks in Pacific City! It is an opportunity to bring everyone together once a year and celebrate the famous dory fleet. The festival starts off by sending the dory fleet offshore around 5:00 am. Yes, I realize how early the time is. But it is such an incredible tradition that most folks do not mind overlooking the time. Besides, the early bird gets the worm, right?
Once the dory fleet has departed, folks usually partake in several of the festival's activities. There are many activities to choose from! For instance, many people LOVE the fish fries that occur around the town. Many of these fish fries are held on the beach. Now, that is what I'm talking about!
If you have a passion for art and creativity, then you must check out the city's Artisan Fair that is always held in the downtown area. This is a favorite for many festival attendees! At the Artisan Fair, you will find many local arts, crafts, and traditions that are true to Oregon and true to specifically Pacific City. (Whew, that is a tongue twister!)
Regardless of your preferences, the town always prints out an itinerary of events for their Dory Days Festival. You can plan ahead of the activities which you would like to enjoy. It's simply a classic way to experience the small-town life and an opportunity to meet the locals and learn their traditions. It is just another opportunity that makes traveling worthwhile.

4. Florence, Oregon
Located on the central coast of Oregon and approximately an hour west of the city of Eugene is the picturesque town of Florence. Sitting at the mouth of the Siuslaw River, it offers quite a different adventure than that of Cannon Beach, Seaside, and Pacific City. In my opinion, Florence is more for the outdoor adventure seekers who enjoy the spice of life and run the risk of being daring. Florence is a historic Oregonian town that is packed with rivers, dunes, caves, trails, and one awesome lighthouse! Listed below are some of the best adventures to try while visiting Florence, Oregon.
* Visit the Oregon Dunes National Recreation Area and ride a dune buggy!
The Oregon Dunes National Recreation Area is a part of the Siuslaw National Forest (which is awesome, by the way) and stretches for 40 miles on the Oregon coast. In fact, it is our continent's largest coastal dune area!
While some folks would rather explore the dunes by foot, I would rather rent a dune buggy and explore the dunes that way! Riding a dune buggy through the sand dunes is so much fun that it competes with some of the best theme park rides.
(Now, I will say this: If you are prone to motion sickness, you may want to take some medication prior to the dune buggy ride. Driving over the sand in a bumpy buggy can give the same effect as boating through a storm at sea.)
While I highly recommend implementing every safety precaution possible, you can have a blast riding over the sandy hills and turning up some dust. For any adventure enthusiast, this is for YOU.
In addition to riding a dune buggy, the recreation area also provides opportunities to fish, beach comb, view birdlife, and other wildlife, camping, sandboarding, and sand sledding. Which, may I suggest, that if you enjoy the dune buggy ride, you will likely enjoy the sand sledding as well. That is just my two cents! Do with it what you wish.
* Be sure to check out the Sea Lion Caves. It is the largest sea lion cave in America!
Florence is home to America's largest sea lion cave. It is an incredible sight to see. Around 200 sea lions inhabit this deep-sea cave that is around the size of a football field. In order to get there, you must take an elevator ride that descends 200 feet below the surface. (In case you are wondering, 200 feet is roughly the height of a 12-story building.)
In addition to being America's largest sea lion cave, it is also the only home in the world where sea lions call the mainland "home". The barking sea lions chatter happily in the sea cave regardless of visitors' presence or not. They are rather relaxed and outgoing creatures. Most of them hang out in the sea cave during the colder months and in the warmer months, they move out to the rocks and sunbathe. The area also provides outdoor pathways, viewing positions, and a gift shop with snacks. It's the perfect place to take the children!
* Heceta Head Lighthouse. Take a photo of the most photographed lighthouse on the West Coast.
Built in 1892, the Heceta Head Lighthouse is listed on the National Register of Historic Places. It is the most photographed lighthouse on the West Coast, AND it is the brightest lighthouse on the West Coast. With its red roof and tall, white, towering exterior, its classic beauty exemplifies the ideal lighthouse. In other words, when you imagine a lighthouse, the Heceta Head Lighthouse is the image you imagine.
It is one of the more popular places to visit in Florence. However, as is true with everything else in Oregon, you cannot get to the lighthouse without taking a hike. It is a half-mile, uphill hike to the lighthouse but oh so worth it!
You can take a tour of this iconic lighthouse in addition to posing for all of those photos and selfies. The views from the top of Heceta Head are very captivating. I urge you to not leave Florence without visiting this historic landmark.
* Go kayaking in the Siltcoos River.
The Siltcoos River is a great place to go kayaking. Even better? If you are new to kayaking, the Siltcoos River does not have a strong current to work against (or with). So, it is also an easy place to learn the basics of operating a kayak!
The river is a beautiful place that looks fresh out of a fairytale book. The forest is thick, green, and lush and feels like a protective canopy against the rest of the world. It's a peaceful drift down the Siltcoos River and into the Siltcoos Lake.
Perhaps after a full day of rough riding in the sand dunes, you can wind down the next day with a peaceful kayak cruise down the Siltcoos River.
And to top it off: If you are in the area during the summer and enjoy fishing, salmon flood the river and lake. Hey, it's a two-in-one deal!
* Take the entire family and walk the Hobbit Trail. It is a truly magical experience and fun for everyone!
I am sure you have figured out that this popular trail is named after the famous and loved film, The Lord of the Rings.
Why?
The Hobbit Trail has a strong magical, artsy, and whimsical flair to it that for many people, it reminds them of the hobbit scenes in the infamous film series. This trail is one which the whole family would enjoy! Stretching for one mile, the Hobbit Trail walks you along the beautiful coastline and into a world of green lush, curvy tree limbs, winding pathways until you end up at the base of a rock cliff onto a seemingly hidden but mysterious beach. The wooded area is full of Oregon's Sitka spruce trees and adorned with moss and green foliage. In my personal opinion, it is a great place to walk with your children and share fairy tale stories or adventure stories. The natural scene literally sets you up for marvelous storytime and imagination adventures!
Even better? The Hobbit Trail is only one mile from the Heceta Head Lighthouse. If you want to make a day of trail hiking with the family, this would be a wonderful opportunity to partake in more than one trail with fantastic landmarks.

5. Lincoln City, Oregon
Ah, at the thought of Lincoln City, I can almost smell its clean, sea breezes as it sweeps through my hair. Lincoln City is known for its windy conditions and fantastic sea breezes that are perfect for flying kites. In fact, it is the windiest city in all of Oregon! Visitors from all over the country flock to Lincoln City just to fly kites and participate in their famous kite festivals.
So, what makes Lincoln City exceptionally windy?
Its geographical location is at a critical point where the sea is to its west, and the mountains are to its west. The air masses that combine from the south and the north often collide in this location which creates the ideal atmosphere for flying kites. Even more intriguing, the wind direction is nearly always predictable. It blows from the southwest during the winter months, and it blows from the northwest during the summer months. This meteorological advantage allows for some strategic kite adventures!
Lincoln City is located on the central coast of Oregon and sits on the 45th parallel. This latitude marking geographically shows that the city is at the midpoint between the chilly North Pole and the warm Equator. In fact, you can pose for a picture at the geographical sign that denotes its position on the 45th parallel! (However, the sign is located just north of Salem on Interstate 5. We can save this information for another discussion on another Oregonian city.)
Anyway, while I can go on and on about any of the amazing things in Lincoln City, let's look further into the activities and adventures that can be had in this wonderful coastal city.
* Test out your kite flying skills at Lincoln City's summer and fall kite festivals!
What a drab it is to have a kite and no wind to propel it upward. For most places in America, you must save your kite flying skills for days when it is breezy. This means that you can go days or weeks with the inability to fly your kite.
BUT, in Lincoln City, the opportunities to fly your kite and nearly endless. As I have said previously, Lincoln City is the kite flying capital of the country. And let me tell you, folks in this windy town are serious about their kite flying skills! The city has two kite festivals every year that are held in June and again in October.
These festivals are fun for children and adults alike. Since Lincoln City takes great pride in its kite shows and festivals, they offer plenty of shops where you can find your very own kite. From an array of exciting, bright colors to fancy shapes and patterns, you can find a kite for everyone's personal taste and preference.
Purchase a kite, practice your flying skills, and participate in one of their kite-flying festivals!
* Grab a surfboard (or a boogie board) and have a blast on some serious waves!
When you have a lot of persistent wind and ocean water, what else do you have? YOU HAVE SOME SERIOUS WAVES. Lincoln City's continuous wind and sea breezes offer more than just incredible kite flying opportunities. Surfing in Lincoln City is serious business. It is such a serious business that it literally brings in the profits for the city as visitors from all over the world come there to take advantage of some rare waves.
Surfing pros from all over the world are very familiar with Lincoln City waves. These are especially incredible just off the shore from Nelscott Reef. Once in a blue moon, the wind and water there can produce rare waves that grow as high as 50 feet! This scenario is only possible in a handful of places around the world. This literally puts Lincoln City on the map!
If you are not a professional surfer, I don't advise you to try riding the waves off of Nelscott Reef. However, a great, safe place to check out the waves is at Road's End. Whether you enjoy surfing or boogie boarding, this is a fun place to ride the waves, and it is much safer.
* Go camping at Devil's Lake Recreation Area. Even better? It is super close to downtown Lincoln City!
Devil's Lake is a beautiful 680-acre mass of water that sits on the edge of town. It is literally a piece of the countryside without leaving the city. This means that if you are camping and don't feel like cooking on the grill, you can easily grab some grub from downtown and eat it around the campfire.
(I should mention that this is not Devil's Lake that is located in Bend, which is in the central portion of the state. Some people confuse the two lakes by their identical names when planning out future vacay trips. So, when researching Devil's Lake, be sure you are reading information on the one in Lincoln City. It will mess up your vacay itinerary if you confuse the two.)
Obviously, there is much more to do at Devil's Lake than just camping. When people visit the lake, they also enjoy activities such as fishing, kayaking, boating, picnicking, hiking, wading, and strolling. Fishermen especially love Devil's Lake because it has a wide array of fish such as largemouth and smallmouth bass, rainbow trout, bluegill, black crappie, and catfish.
If you enjoy observing wildlife, you will especially love the bald eagle nests! You will find massive bald eagle nests that are large enough to fit a group of people! Although please do not attempt to go near an eagle nest. They are merely an incredible sight to see from a distance and provide excellent photo opportunities.
Ducks and geese also migrate through Devil's Lake in their search for warmer weather. It is not only a gorgeous view to see them waddle, bathes, and fly around the lake, but it is a calming and relaxing sound to hear them. Overall, this is a great place for the whole family to relax and connect in the sounds and views of nature.
* For a serene experience, visit the Connie Hansen Garden Conservancy. It is there where you can see the colorful side of Lincoln City.
A great vacation is often a mix of adventure, excitement, relaxation, and beauty. The Connie Hansen Garden Conservancy is on the relaxation and beauty side of that vacation equation. Oregon is known for its cultivation of colorful flowers and bright, spring blooms. In fact, Oregon is known for its gardens and maintaining them to award-winning levels!
Lincoln City is no different. This garden offers flowers and blooms of every color, but it does have one specialty: the rare Japanese iris. And this garden has the Japanese iris in abundance! When you stroll through the garden pathways, you are greeted by its soft, purple hues and mesmerized by its serene existence. It is the epitome of color, in my opinion.
Purple is a royal color. The history of the rare Japanese iris is proof of that. A few hundred years ago, the Japanese iris was so precious that only the royal families were allowed to partake in its beauty. Can you imagine not being allowed to grow a certain flower because it is too royal for you? Thankfully, the flower is allowed beyond the royal walls and everyone can enjoy it.
The garden has several walkways and paths that are perfect for taking a romantic stroll or a solo spiritual stroll. It is definitely a therapeutic experience for anyone who visits this colorful part of town. The best times to visit the garden and view the colorful blooms are during the spring and summer. However, the garden maintains its beauty year-round as it adjusts to each season. I urge you to take the time out of your visit to Lincoln City to experience the beauty, serenity, and elegance of this Oregonian garden. You will not regret it.
* Grab a kayak and have fun in the waters of the gorgeous Siletz Bay.
Without a doubt, Siletz Bay is one of the prettiest bays I have ever seen. The Oregon Coast has some of the continent's most beautiful bays, but Siletz Bay stands above them all. You do not want to miss out on visiting this bay! (If you have ever heard of the phrase, "fear of missing out", Siletz Bay is where everyone goes while visiting Lincoln City.)
People love kayaking in Siletz Bay because of its gorgeous views and beautiful wildlife. It literally puts you out into the heart of nature and tugs at your heartstrings. I kid you not: You can paddle through the waters for hours and never run out of sights to see.
In addition to kayaking, many people enjoy visiting Siletz Bay for its awesome clamming opportunities. If you are a morning person, this may be your cup of tea! Siletz Bay is one of the best places in the area to dig for clams during the morning hours. It is a fun activity for the whole family.
And if you find yourself tired and hungry after a full day of playing in the bay, there are plenty of restaurants on the beach! I really love the oceanfront views while eating my dinner after a long day of paddling through the bay. And yes, they serve clam platters. It is the absolute best!

6. Brookings, Oregon
Brookings, Oregon is the most southern town on the Oregon Coast. It sits near the border of Oregon and California. Because this charming coastal town is so far away from the main Oregonian cities and hubs, it often gets overlooked. However, I happen to believe that Brookings is a diamond in the ruff. If you are a true adventurist, this Oregon coastal town is a must-see. Let's take a look at some of the adventures that await you in Brookings, Oregon.
* Visit Harris Beach State Park and have fun on their biking trails.
Oregon is known for many things, but of the more popular activities it is known for is bike riding. Most people in Oregon have a bicycle; therefore, so should you when you visit! The bike trails at Harris Beach State Park provide a fun opportunity for the whole family. Not only do the bike trails offer fabulous ocean views, but they also provide rest points that have picnic tables and park benches.
The trails are not long but are easy and fun to explore! It's a great place to have fun, relax, and soak in the Oregon scenery.
* Go fishing for chinook "king" salmon on Chetco Bay.
You cannot visit the Oregon Coast without picking up a fishing pole at least one time. Brookings's Chetco Bay has some of the world's largest chinook salmon. (Alaska has them beat, though.) These fish are nicknamed, "king salmon" for their massive size. The chinook king salmon are as big as 60 pounds! All fishermen in Oregon know that you cannot find salmon of this size anywhere else in the state.
While you are trying to catch the largest salmon you have ever seen in your life, you can also soak up the fabulous views of Chetco Bay. There just aren't many places in Oregon that are not beautiful.
The towns on the Oregon Coast are some of the most magnificent places in America.
The mesmerizing scenery, outdoor adventures, and incredible food are what make Oregon, Oregon. There is a reason that Hollywood keeps returning to film movies on Oregon's picturesque coast. You just won't find many other places in the world that appear to be so otherworldly.
Take a chance. Be adventurous. Be daring. Visit the Oregon Coast.