Find historical adventure in Oregonian ghost towns!
My first thought of ghost towns brings rustic, haunting images to mind: old, dilapidated, wood buildings with boarded windows, tumbleweed floating aimlessly across the dusty street, and screeching sheets of misplaced tin.
And I have to admit that this is an accurate thought!
Ghost towns are uninhabited (or mostly uninhabited) towns that once thrived during a previous economic boom. Many ghost towns in the West are products of the infamous Gold Rush during the 19th century. Other ghost towns sprouted and thrived during the Industrial Age.
Oregon is historic for its record number of Ghost Towns
Did you know that Oregon has the highest number of ghost towns in the country? Thus far, 200 Oregonian ghost towns have been counted! Some of these abandoned communities are completely starved of human interaction while others have an extremely small population with 30 people or less.
One aspect I really love about ghost towns is the preservation of a time gone by. Stepping foot in a ghost town can feel like you have traveled back in time. I especially love the oldest of ghost towns where remnants of the infamous Gold Rush linger around with splintered wagon wheels and rotting saloon swing doors. If the abandoned, aged remnants could speak, their history says it all.
From the 200 ghost towns of Oregon, I have collected an exciting list of 10 ghost towns for you to explore! I ensured to choose ghost towns from all areas of the state so that no matter where you are, you can find a ghost town near you. I double dare you to turn this list into an adventure and visit every ghost town!
1. Golden Ghost Town in Southern Oregon
Golden is one of those ghost towns that sprouted and thrived during the infamous Gold Rush of the 19th century. Located in Josephine County in the heart of Southern Oregon, you don't want to miss it!
Back in the day, people poured in from all over the country with the hopes of finding gold and getting rich. Golden was founded in the 1840s near Coyote Creek where folks started mining for gold.
Today, the town has four buildings that are still standing but slowly deteriorating with the passage of time. One of these buildings is a beautiful, rustic church with brown, aging wood boards and a steeple. This town never operated a single saloon. That is quite the feat for a gold mining town!
As you explore the town, you will be intrigued by the historical lessons displayed throughout. It is listed in the National Register of Historic Places. It is located near Medford, Oregon.
2. Buncom Ghost Town in Southern Oregon
Buncom is a ghost town located in Jackson County in the southern Oregon countryside. You will find that the town is surrounded by pine trees, perfectly preserved and completely vacant. If you are a lover of everything from the Wild, Wild West, then this ghost town is for you.
Buncom is an old gold mining town that once flourished with independent, self-sufficient folks who believed in community and worked hard for their dream of hitting the gold jackpot. Walking through this preserved ghost town is like taking a walk to the past. Green moss grows on the wooden boards of the buildings, and the smell of history is rich in the air. It is a reminder that what once was, no longer is, and what is, may not remain. In other words, life continually changes, evolves, and moves on but the memories, history, and lessons never dissipate.
If you visit this Wild West ghost town in the month of May, be sure to check out Buncom Day Festival. It is a fun event created for the purpose of raising funds for the continued preservation of the Buncom ghost town.
3. Shaniko Ghost Town in Northern Oregon
Another great ghost town is Shaniko located in Wasco County in northern, central Oregon. It is one of the most popular ghost towns in the state with hundreds of tourists visiting it each year. You will enjoy the rusted, dilapidated pick-up trucks, aged buildings, and a sense of a time gone by.
Shaniko initially got its start during the magnificent Gold Rush in the 19th century. Interestingly, the town reached its healthiest peak of operation during the railroad days of the late 19th and early 20th centuries. It was positioned perfectly near all transportation roads where people traveled and hauled crucial resources. In addition to this, Shaniko became known as the "Wool Capital of the World" as farmers near the area raised livestock and sold the wool to industries.
Unfortunately, the creation of a new railway from Portland to Bend pulled businesses and people away from Shaniko. The town steadily declined in population until it reached today's current population of 30 residents.
4. Sumpter Ghost Town in Eastern Oregon
The fourth town on my list might make you money hungry if you choose to visit there. Let me introduce you to Sumpter Ghost Town in Baker County. It is known for losing almost everything to a fire and having to rebuild from scratch. That's a lot of work when your town's population is only 200 people. But what really might pique your interest – this historic town lets you legally pan for gold. If you manage to find an ounce or two of the good old-fashioned stuff, cashing it out will definitely cover your gas and maybe a little more. Or you can do like most ghost town hunters and keep it as a memory of the time that you took a trip back in time to see what life was like in the 1800s.
In addition to finding your riches with some gold, you can take a ride on the Sumpter Valley Railroad, which features a beautiful engine and passenger cars. This fantastic ride will take you on a round trip through the mining district for about two hours of your time. They offer an affordable ticket you can purchase for select weekends and holidays.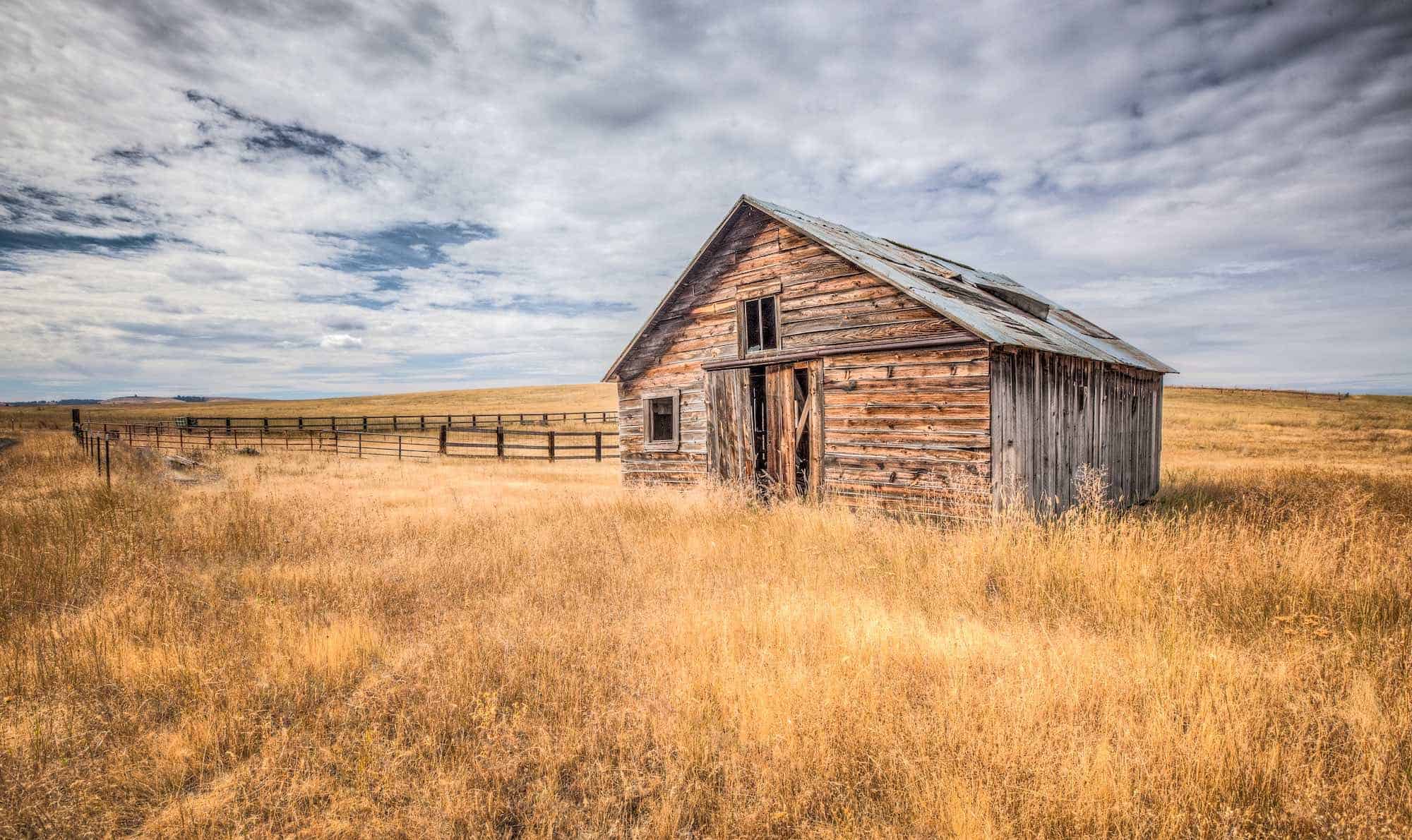 5. Hardman Ghost Town in Northern Oregon
Hardman is nestled in the northern part of Oregon in Morrow County. Fun fact: It has undergone more name changes than it has people! That's a clue to knowing a ghost town has a unique history and is totally worth checking out.
If you could travel back in time to the year of 1870, you would find that the town was named Dairyville. (I think that name is fairly self-explanatory for their main choice of occupation back then!) Shortly thereafter, the name changed again to Dogtown. It was influenced by the two small towns, Raw Dog and Yellow Dog, that had formed in the area. However, since Raw Dog was the more populous side of town, the name wasn't exactly the most alluring. Thus, the birth of the post office in 1878 birthed the newest and final name of the town: Hardman. The name came in honor of David Hardman, who was an ox man and the future postmaster.
The town had its own stagecoach depot that brought in a lot of traffic through the 19th century. However, as stagecoaches became the least popular form of transportation with the arrival of the railroad, the town became less busy with fewer people. Where it was once a bustling location filled with general stores, schools, a saloon, a church, and a newspaper station, it collapsed into silence.
Today, the ghost town of Hardman is still overseen by a strong, independent group of 20 to 30 people. However, the town itself does not offer any services to its residents.
6. Granite Ghost Town in Central Oregon
The sixth location on my list is the fourth, least populous incorporated city in Oregon – Granite. Located in Grant County with a total population of 38 people, it is surprising, to say the least, that this tiny community is still in operation! There is no doubt that the people of Granite have a strong desire for survival. In 1990, it had only 10 people!
These 38 people are quite independent, as the city didn't have any working utilities after World War II. It wasn't until after the turn of the Millennium that utility services were restored. However, this has not prevented the town from losing any of its mysterious charm that so often accompanies a traditional ghost town.
The main attraction today is a large, historical lodge that allows guests to stay and be as secluded as they like, while also enjoying a touch of home with excellent customer service and all the amenities one would expect from such a location.
So, how did the town get here? Like many others in the area, its early beginnings were founded in mining for gold. Incredibly, gold was first discovered here on July 4, 1862, Independence Day. (Whew! Talking about independence, those folks found some financial freedom!) This extraordinary feat gave the town its first name – Independence.
Unfortunately, when the town built its first post office, it had to change the name to Granite, as there was already another town in Oregon named Independence.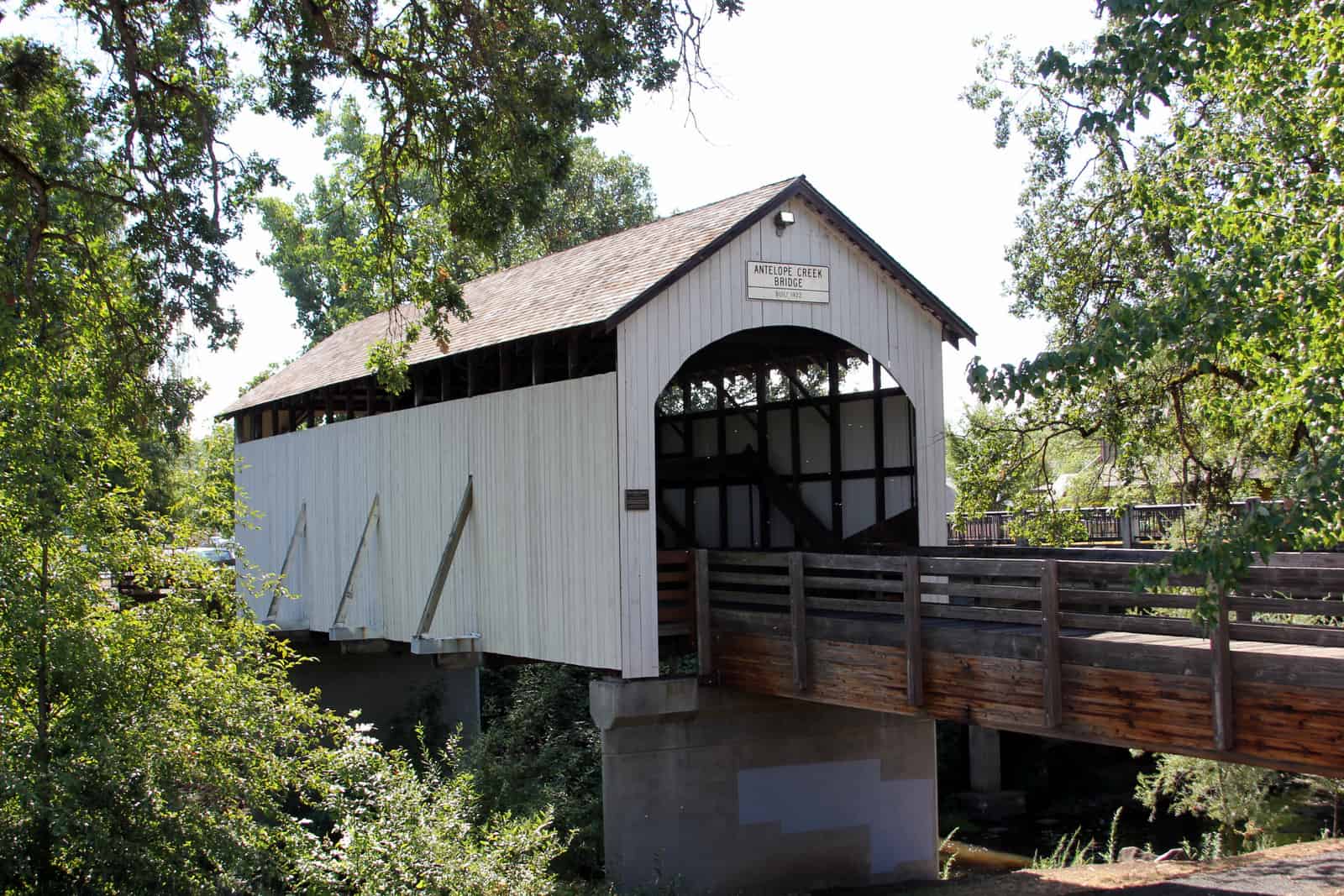 7. Antelope Ghost Town in Northern Oregon
Coming in at number seven is a mysterious ghost town with a dark past from not too long ago – the 1980s. It housed an unwanted, bio-terrorist group who rolled into town and renamed it – from Antelope to Rajneesh. Disguising itself as a Utopian society, the original townspeople fought hard to keep their town from being completely taken over. It wasn't until the group's criminal actions were discovered when the original townspeople won their town back and reclaimed its name, Antelope.
Antelope is a northern Oregon ghost town in Wasco County. In 2012, it had a population of 47 people – a far cry from its better days in the 1800s when it served as a connection between gold mines in Canyon City with the Columbia River.
Established in 1872, Antelope was home to Howard Maupin, who operated a horse ranch and raised cattle. The stage depot was bought by Nathan Wallace who also became known as the town's first postmaster.
Named by European settlers for the wildlife in the area, Antelope was officially incorporated in 1901 before its population of 250 people steadily declined with the changing times.
8. Canyon City Ghost Town in Central Oregon
With a population of approximately 700 people, Canyon City is one of the larger ghost towns on my list, but that doesn't make it any less historical. It is the county seat of Grant County, and it was established in 1862 when gold was discovered in Canyon Creek.
It is known as the "Deadwood of Oregon" and features Boot Hill Cemetery, where the "rootin'est tootin'est" gunfighters of Oregon were buried with their proverbial boots on as they had passed suddenly in acts of violence. Now, that is what I think of when I imagine ghost towns from the Old, Wild West!
Until gold mining was made illegal by the federal government in 1942, Canyon Creek was outputting as much as $5 million in gold per year! It is no wonder that gunfighting ensued in this old western town! Gold and greed became a major problem as they did in so many of the towns in the Old West.
Today, Canyon City has a school district and a county government to run so there are jobs available for the politically minded. However, for those who wish to work in other professions, you will find jobs in forestry, fire suppression, oil, vehicle maintenance, and other private sector businesses. Keep in mind that, yes, this is still a ghost town, but a large, operable ghost town!
The city even owns a former Masonic Lodge that was built in 1937 in response to a rebuilding effort from a massive fire. It wiped out much of the city. Uniquely, you can also catch a movie while you visit for $1, as the city uses the Grantville Theater to show movies two weekends a month.
9. Millican Ghost Town in Central Oregon
Coming in at number nine is the Millican Ghost Town, which you can find in Deschutes County, where you can find the Millican Store. You can also find the story of Mr. William Mellin, the town's only surviving permanent resident, who was murdered by his own employee in 1988. Tragic! (This is also made the murder rate for the town that year jump from 0% to 100% – probably the largest murder rate on record.)
After Mr. Mellin's murder, the town had no one left to run it until it was purchased in 2000 and leased to the Murray family, who reopened the Millican store in 2002. But by 2005, with not enough customers to make the business sustainable, the store was closed once and for all and the family left town.
Millican was founded by George Millican in 1880, with a post office opening 33 years later, in 1913, and Mr. Millican acting as the postmaster. However, in 1916, Mr. Millican retired and sold his ranch. You can still see the signs of Mr. Millican's ranch as the wooden fence separates the pasture from the road.
With the Millican store as the town's primary fixture, after you take a photo of the store, you might enjoy taking some photos of the incredible view of the long road surrounded by a wooden fence as you drive on through.
10. Greenhorn Ghost Town in Eastern Oregon
Last but not least is Greenhorn City in Baker and Grant counties. Actually, in terms of population it is least – as this incredible ghost town full of history has an official population of zero. None. You might think that means it's totally empty, but this tiny town in the mountains is full of history. First, in the Blue Mountain ridge, at 6,306 feet, this tiny town is the highest geographically incorporated city in all of Oregon.
Like most ghost towns, the city was mostly abandoned after the federal government shut down gold mines in 1942. However, even before the shut down, the town was tiny – owing to the high altitude and the practicalities of navigating up and down the mountain. It was established in 1865, caught fire in 1898, and was rebuilt to host a sustainable population for the first part of the 20th century.
When you enter this ghost town, after you pass by a sign that says "Welcome to Greenhorn: Oregon's smallest and highest incorporated city," you'll quickly notice that there are cabins that house about 20 part time residents. It's perfect for photography. There are many items and structures frozen in time, from mining carts to cabins. The city also had a jail house but it was taken in the early 1900s and moved to nearby Canyon City.
Even though there are no legal residents, there is a city council and mayor who serve as a historic preservation society.
Some Things to Consider
Ghost towns are a unique part of American and Oregonian history. Most of them having been founded during the westward expansion and their peak seen as the gold rush lead to communities forming around gold mines. A testament to the independent American spirit, most of these cities were formed by individuals just looking to make a living.
What to Take with You
When preparing to visit a ghost town, you should consider what you want to take with you.
First and foremost, you want to make sure you have reliable transportation. In the unlikely event of car trouble, you will be in for a long walk to find someone to give you a tow. If you wait for someone to drive by, it might be a long wait.
Second, you should consider a satellite phone or, at least, a satellite emergency beacon that can be activated. Again, this is for your safety in the event of being stranded.
Third, a good camera! These locations are beautiful, scenic, living monuments that stand in representation of America's history and they are some of Oregon's most unique attractions. Don't forget to include lots of storage cards to store all your photos. You won't be able to offload them to the cloud and your laptop probably won't last long enough on its charge to save all the photos you will want to take.
Fourth, a large battery to recharge your cellphone or satellite phone and camera, as even electricity might be uncommon in some of these towns. If you have a newer laptop, this battery could recharge a laptop too, but I recommend you save those amps for your camera and use multiple storage cards instead.
Fifth, if your gas tank isn't of extra large capacity, consider taking some extra gas with you just in case. You probably won't need it, but you might feel safer if you do any be able to enjoy to trek even more.
Last but not least, a good, can-do, attitude. Most of these cities are welcoming, and their small population of residents are happy to have the visitors. But be mindful to listen to locals and treat the locations with respect. Be careful not to trespass on private property without permission.