The Best 5 Spots For Seafood In Astoria Oregon
Astoria Oregon is a coastal city located in Northwestern Oregon. It lies at the mouth of the Columbia River and alongside the Washington state border. As of the 2010 census, there are about 10,000 people that reside within the city limits, which makes it relatively small compared to other cities nearby. The history behind its founding dates back to 1792, when Americans first arrived to settle along the Pacific Ocean coast. With its majestic views of the Pacific Ocean, Astoria is home to plenty of seafood restaurants that are beloved local hotspots for tourists and residents alike. It has become a popular tourist destination. People flock to this coastal city for the stunning views of the Pacific Ocean and its historic waterfront district. There's no shortage of seafood restaurants in Astoria, Oregon. Some of these seafood joints have been around for more than 30 years and continue to draw crowds with both their fresh-off-the-boat seafood and their inviting atmospheres.
If you're looking for some great seafood spots in Astoria, Oregon, then look no further because here are 5 of the best!
#1. Bow picker fish and chips
Bow picker fish and chips is an old bow picker boat that is parked 1 block off of the Columbia River at 1634 Duane St. next to the old Armory in Astoria Oregon. It's one of those places that is unique and a fun experience no matter where you are from. They have converted an old bow picker boat into a food stand and cook fresh Albacore Tuna fish and chips out of it daily. The menu is literally just Fish & Chips, or soft drinks. No frills or extravagant choices, just great food.
If you are wondering how great the food is, the line at lunch time or almost any point in the day will speak for itself. I have literally stood in line for 45 minutes at one point in the summer. It is normal to always have at least 10 people waiting in line & at peak times the line is half a block to a full block long. People come from states away just to experience it and try it. Started back in earl 2000, I can remember going there and always being greeted by a smiling face and a happy cook. It didn't take but just a few months and some news paper articles for it to explode with popularity.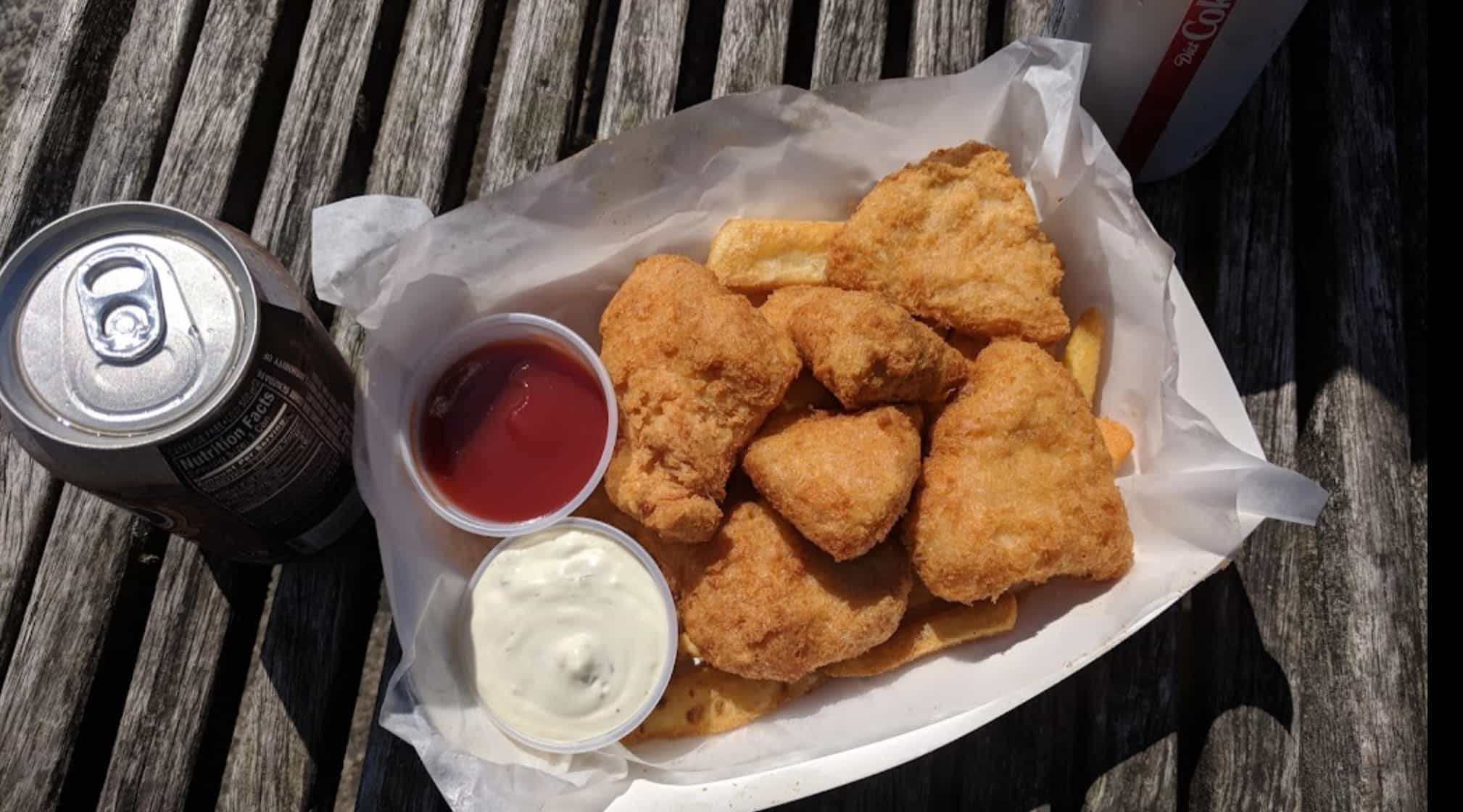 You have the choice of a half order for $9.00 (3 pieces) or a whole order for $13.00 (5 pieces) of Beer Battered Albacore Tuna Fish & Chips along with steak cut fries. Choices of extra fries for $4.00, an extra piece of fish for $3.00 and soft drinks are $1.00 a piece. They DO NOT ACCEPT CREDIT OR DEBUT CARDS, it is CASH ONLY.
Hands down one of the favorite seafood places in Astoria which is why we are putting it as #1.
#2. Ship Out Fish & Chips
Ship Out Fish & Chips is a food cart style casual seafood joint located just outside Astoria city limits that serves up amazingly delicious fish & chips, chowder, and more. Opened in 2017, the Ship Out story begins decades before that. For more than 15-years Enola Baeten worked at The Ship Inn, an iconic waterfront British-themed seafood restaurant in Astoria. The Ship Inn opened in 1974 and served up what was widely considered the best Fish & Chips on the North Oregon Coast for more than 45 years. After The Ship Inn closed in 2017, Enola Baeten decided to open a food cart and incorporate many of the recipes including the iconic halibut and cod fish and chips. In 2017 she and her husband opened Ship Out on Lewis and Clark Rd outside Astoria. 
Ship Out out features fish & chips made with halibut, cod, prawns, scallops, calamari, oysters, steelhead, or you can get a combo ($25.00) which is one of each seafood. Prices range from $11.00 – $23.00 (see image below) and you can opt for either a whole or half order on any of the options.
Ship Out also offers other favorites like their seafood caesar salad, shrimp po'boy, halibut sandwich, and clam chowder. If seafood is not your thing they also have a classic American comfort food including burgers, chicken, and grilled cheese. With more than 400+ 5-Star reviews, and open from Tuesday-Sunday 11am-7pm, Ship Out is a must visit seafood experience in Astoria Oregon. 
#3. Silver Salmon Grille
Silver Salmon Grille is a restaurant in Astoria, Oregon. The restaurant serves many different types of cuisine, including American and seafood. It's located 1105 Commercial St Downtown Astoria near the Columbia River and has been open for 20 years. Once know as the Brass Rail back in 1974 before it burnt down in 1997, the Owners Jeff & Laurie Martin established it as the Silver Salmon Grille restaurant in January 2001 after completely remodeling it. 
Some dishes served at the Silver Salmon Grille include Pan–Fried Pacific Oysters, Smoked Salmon Cakes, Calamari Friti, and even Canadian lobster tail. I would recommend the Silver Salmon Grille to anyone who wants a good, filling meal with their friends or family. I like the "Salmon your way" as you can chose between having it baked, smoked, blackened, grilled or even poached.
The menu prices vary depending on what you order, but they usually include fresh seafood options like their salmon sandwich (around $17), halibut fish & Chips (around $20), or Pan–Fried Pacific Oysters ($23). Overall the Silver Salmon Grille is an excellent restaurant, and I would recommend it to anyone looking for a good meal at a reasonable price. The Silver Salmon Grille provides a unique experience to its guests and is known for the quality of its food as well as excellent service from its waitstaff. If you're looking for something fun and different, make sure to check out this restaurant during your next visit!
#4. Josephson's Smokehouse
Josephson's Smokehouse is a famous restaurant located in Astoria, Oregon, which specializes in local seafood. The Josephson family has been serving seafood for over 100 years, and the business has expanded to multiple locations throughout the Pacific Northwest. Their motto is "Good food just tastes better".
Josephson's Smokehouse serves smoked salmon, halibut, herring eggs, tuna steak sandwiches, clam chowder, and more. I like the smoked salmon for breakfast because it's very flavorful, and I want to eat seafood for breakfast. The tuna steak sandwiches are also delicious because the tuna is very fresh, and the sauce on the sandwich makes it taste terrific. Their clam chowder is very tasty because its consistency is perfect, and the clams are enormous.
Josephson's Smokehouse is the number 8 restaurant in Astoria, according to TripAdvisor. They smoke their seafood daily with alderwood giving them that famous flavor. Although they are most famous for their smoked fish sandwich, their clam chowder is also very popular with locals and tourists alike. Josephson's Smokehouse has been featured on the Food Network and Travel Channel for their smoked fish sandwich.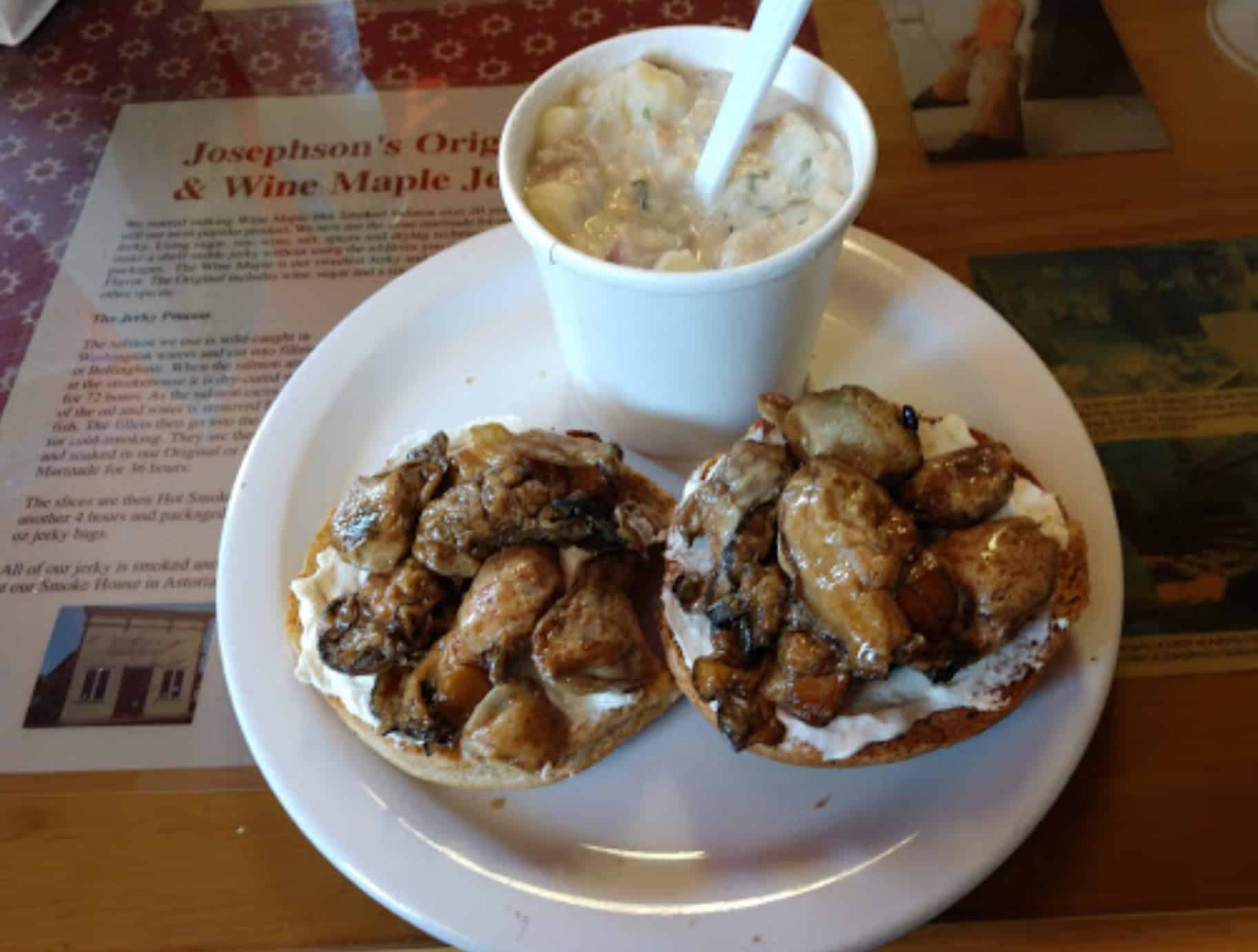 Josephson's Smokehouse is open daily from 8:30 am to 9:00 pm during the summer months and 11:00 am to 5:00 pm during the winter months. Many people recommend visiting Josephson's Smokehouse as a stop when taking a trip to Astoria, Oregon, or any nearby location.
The restaurant also includes a museum that exhibits many different artifacts from Josephson's history in serving food to customers. In addition to seafood, they offer appetizers such as salads, soups, sandwiches, burgers, tacos, and more. The restaurant also offers desserts such as ice cream and pie made with fresh fruit from Oregon's farms.
Furthermore, you can order a pitcher of any flavor to share with friends and family members. Another popular beverage is their coffee made from 100% Arabica beans imported from Colombia, Central America, Africa, Indonesia, South Pacific Islands. Josephson's Smokehouse is an excellent choice for eating out because it serves delicious food at affordable prices.
#5. South Bay Wild Fish House
The South Bay Wild Fish House is one of the best places for seafood in Astoria, Oregon. South Bay Wild Fish House is located at 262 9th St in Astoria Oregon. Many people say that it is one of the best places for food in Astoria. It has a beautiful outside patio to sit on while you eat your food and watch the local seagulls fly around. If you are looking for some good Tuna Poke or crab, this is your place. Some say that their oysters are out of this world. I prefer the seafood tacos because they are so delicious.
Another thing to try is their fried calamari salad because it's unique and tasty! The halibut and chips are also a good choice, and the fresh clam chowder with some garlic toast will get you through the day. The clam chowder soup is impressive; it comes with some crackers to make the meal feel like home.
The South Bay Wild Fish House has excellent customer service and fantastic food that will leave you wanting more. The The fish is always fresh and made to order no matter what you get on your plate. South Bay Wild Fish House is open Wednesday – Saturday from 11:30 am to 8 pm. All in all, South Bay Wild Fish House has very good food at a fair price for what they offer on their menu.
Honorable Mention: Mo's Seafood and Chowder
Mo's Seafood and Chowder is a well-known, family-owned, and operated local restaurant in Astoria, Oregon. It has been recognized for great service, good seafood, and their famous chowder dishes for nearly 30 years. Mo's Seafood & Chowder was established way back in 1946 and eventually added the Astoria location in the old Englund Marine building around 2017. Mo's Seafood continues to serve fresh seafood dishes that have made it a popular destination for tourists. In 2016 the founders retired from business, leaving their children to take over. The restaurant is still run by son and daughter with a team of passionate employees behind them.
Mo's Seafood & Chowder has been recognized as one of the most popular restaurants in Astoria, with guests coming from all over Oregon, Washington, and even Canada. Customers can choose from various entrees, including Dungeness crabs, crawfish, shrimp, sea scallops, and salmon, which are known for being delicious and fresh. Sea scallops are another popular dish among regulars, which can be pan-fried.
The restaurant is truly known for their clam chowder A consensus in the town says that Mo's clam chowder is the best around. I really enjoy having my clam chowder in their sourdough bread bowl personally. .
Other foods on the menu at Mo's include seafood baskets (cod, halibut, clam strips, shrimp), fish sandwiches and even some salads. The restaurant also has a special menu for kids, including hamburgers, chicken burgers, and grilled cheese. The restaurant is known for its relaxed atmosphere with friendly staff and great food. Call ahead seating is available for groups of 10 or more.
Mo's Seafood & Chowder can be found at 101 15th St in Astoria, Oregon and is open daily for lunch and dinner from  Sunday – Thursday 11:00am – 8:00pm and Friday and Saturday 11:00am – 9:00pm. 
Conclusion
In conclusion, Astoria has the five best spots that offer delicious seafood dishes along with its waterfront, easily within walking distance from downtown Astoria. From casual dining options to upscale dining, there's something on the menu here to please every palate. Whether you're looking for fresh seafood or steaks, these are perfect sceneries and a serene atmosphere. If you are hoping for a romantic date or a quiet dinner with friends, make sure to choose one of the restaurants with views because the food tastes even better when enjoyed in beautiful surroundings. You can't go wrong with these restaurants when visiting Astoria, Oregon.