I want to tell you a little secret about me: I have always carried a sense of intrigue and interest in everything historical from the 1880s. The Old West, especially, has fascinated me. I know that I am not alone in this regard!
Fortunately, one major benefit to exploring Oregon is the immense amount of Old West history. The state is saturated in remnants of old clapboard saloons, ghost towns, Old West heroes and risk-takers, and, obviously, the Oregon Trail. History buffs love Oregon.
If you dream of living in an old western town that has preserved history and overflows with the old western ambiance, then check out Sisters, Oregon. The residents of Sisters have carefully preserved the Old West with clapboard buildings, rustic art, country living and so much more. Honestly, the first time I arrived in town, it took me back in time. Everyone knew how to ride a horse and work a lasso! It was fantastic!
The folks in Sisters are good people as well. Should you decide to move to this beautiful town in Central Oregon, you will be welcomed with open arms. Let's take a look at some important features and statistics about the town should you decide to take a leap and move to the grand town of Sisters, Oregon.
Where is Sisters, Oregon?
If you're a geography guru and have never heard of Sisters, Oregon before, don't worry. 
"Sisters is neat little country town we discovered on our way to Bend" – Recent Visitor
Sisters is located in the central portion of the state. It's approximately 154 miles southeast of Portland (2 hours and 45 minute drive) and has an elevation of 3,182 feet. If you fly into Portland and rent a car, you will have a beautiful drive up past Mt. Hood on Highway 26 and then down through places like the Kahneeta hot springs.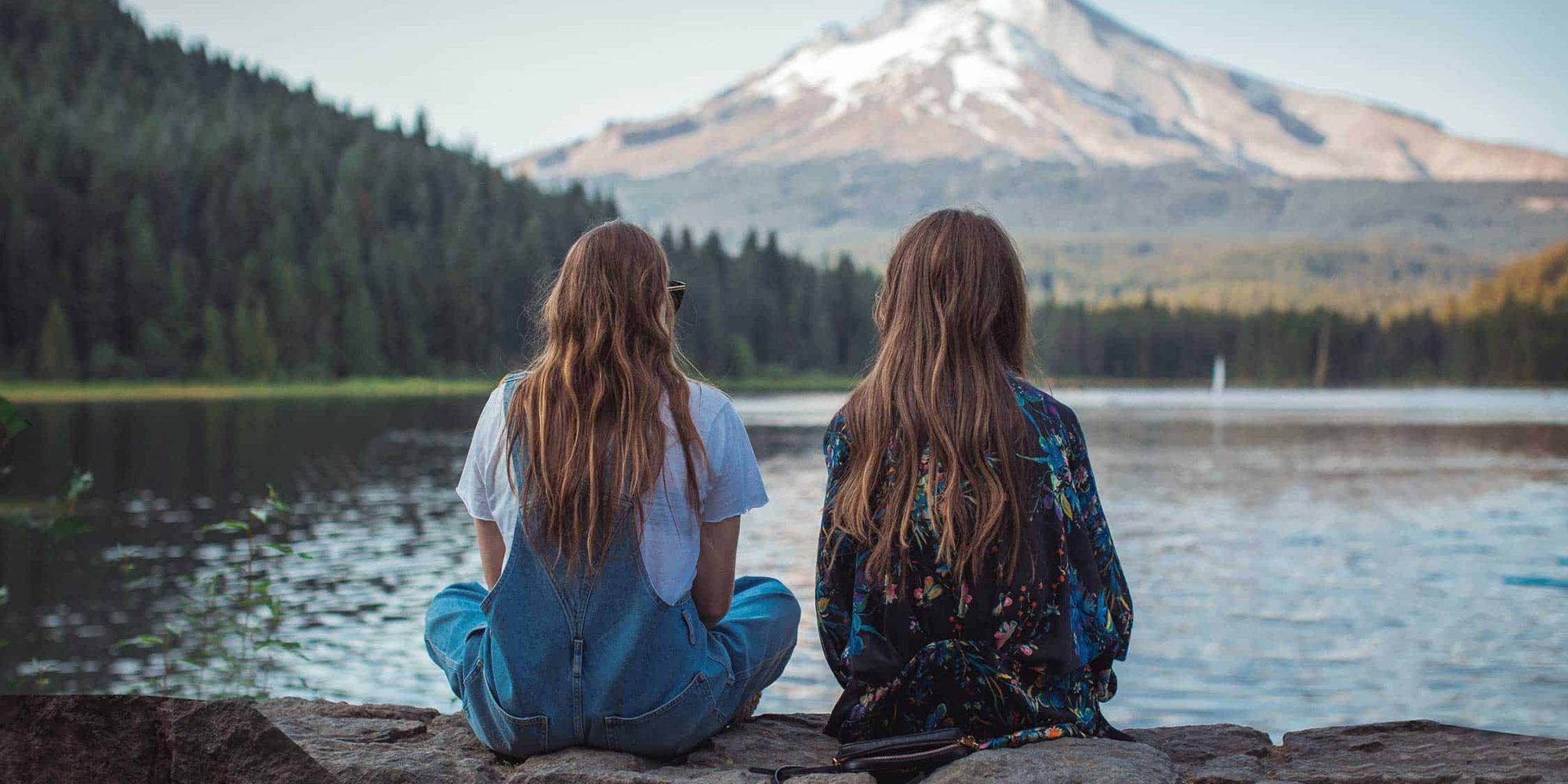 The Population of Sisters
Sisters is a fairly small town; however, it's not too small. For the native Central Oregonian, they may view Sisters as a big city. If you know anything about Oregon, it has plenty of wide-open spaces where nature is more prevalent than humans. However, the experience is worth every minute!
Sisters has a population of 2,500 residents. To give you an idea of the population density, there are approximately 1,300 residents per square mile. The town has a young population overall with the median age being 39 years of age.
The town has a rich environment for families. Statistics show that 32% of the population are married with children, 55% of the population is married, and only 11% of the population is divorced. For the single folks out there, 15% of the population is single.
Sisters and Neighboring Towns
Sisters is nestled at the base of the great Cascade Mountains. In fact, the town is named for the three consecutive mountain peaks that stand boldly in the background of Sisters. The white-capped mountain peaks are known as "Sisters". The town is located on Highway 20 which is 40 miles northwest of the city of Bend.
Sisters resides in the county of Deschutes and is considered a part of Bend's metropolitan area. Don't worry though; Sisters looks nothing like a metropolitan area! It's surrounded by Central Oregon's mesmerizing countryside with the Willamette and Deschutes National Forest to its immediate west and the wide-open spaces of the high desert region to its east. And, as I previously mentioned, the majestic Cascade Mountains provide impeccable background views! However, I will indulge more on the landscape beauty further on in this reading. For now, let's take a look at some of the nearby towns and cities to Sisters. After all, it's important to know what surrounds you when you move to a new location.
Cities and Towns near Sisters:
Bend – 40 miles SE
Redmond – 36 miles SE
Blue River – 25 miles SW
Terrebonne – 31 miles NE
Gates – 32 miles NW
Madras – 46 miles NW
Sweethome – 38 miles SW
Mill City – 36 miles NW
Prineville – 39 miles E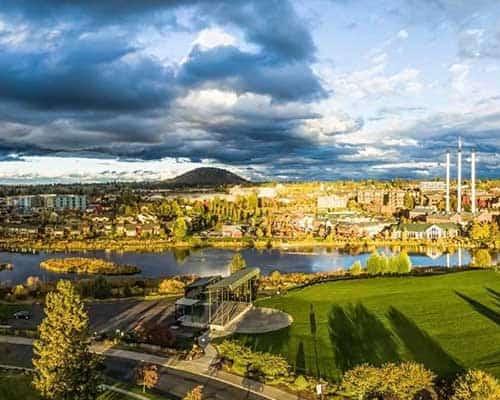 Geographical Landscape and Climate for Sisters
As previously stated, Sisters is situated in an incredible geographical setting. The Cascade Mountains offer the perfect backdrop for the town with its bold, white peaks looking as if its edges have been carved by hand. The green and lush Willamette National Forest is to its west while the Deschutes National Forest sits directly to its south. The wide-open spaces of Central Oregon's high desert region essentially begin in Sisters as it is often considered to be the transitional town between geographical wonders.
With all of these geographical settings meeting in one location, Sisters has a unique climate that is similar to areas around the Mediterranean. In fact, it's classified as having the Mediterranean Climate. This means the summers are typically dry, and the winters are very wet. July is the driest month of the year whereas December is the wettest month of the year.
As for temperatures, the summer averages around 64 degrees Fahrenheit whereas the winter averages around 31 degrees Fahrenheit.
Snow does fall year-round although, during the summer months, it only falls on the mountain peaks. The Cascades would not be the same without its brilliant, white peaks!
Sisters also rests at 3,100 feet above sea level.
Recreational Activities in Sisters
Folks in Sisters never get bored as there is always an adventure to be had. Let's take a look at some of the recreational activities that are offered in this old western town.
*Fishing
People who enjoy fly fishing travel from all over the country to cast their lines in the famous Metolius River. It's so popular that you have likely viewed classic photos from magazines of fly fishermen wading in its waters.
*Horseback Riding Trails
Sisters is known for its love of horses. If you love horses, you will fit right in! There are plenty of forest trails and guided trails to choose from as well as horse rides and camping.
*Whitewater Rafting
Nothing is more exciting to me than whitewater rafting! The thrill of riding rough waters and the spray of mist in my face exhilarate my senses. You can have the same great adventure in Sisters. There are guides who join you on your rafting journey to ensure you enjoy a safe ride with breathtaking views.
*Backpacking
Sisters is loaded with many backpacking opportunities. Perhaps you will have a long work week and desire to escape for the weekend. The beauty of living in Sisters is that you don't have to escape very far to find beauty and isolation. In Sisters Country, you have access to many backpacking trails that lead you to indescribable beauty, clean air, and solitude. Oh, and don't forget your camera!
Are you still considering a move to Sisters, Oregon? I can almost sense your eagerness for adventure yet simplicity. Sisters is more than a beautiful Old West town: It's an economical town as well. Let's take a look at some important economic details you should review before making your decision.
Job Market Details
The unemployment rate in Sisters is a low 3.90%. This is good news! It means there are plenty of jobs available. Listed below are Sisters' top 3 job sectors and the percentage of the population employed in each sector.
Retail Trade – 17% of the population employed.

Food Service – 15% of the population employed.
Professional Services – 10% of the population employed.
Average Income and Salaries
The average income and salary statistics for Sisters is listed below.
Average Income – $23,200 a year.

Median Household Income – $41,750 a year.
Tax Rates
Listed below are the tax rates for Sisters.
Yes, you see that correctly! While much of the country pays a sales tax when purchasing a product or service, the residents in Oregon do not! The price you see on the sales tag is the price you will pay.
However, Oregon compensates for the zero sales tax by increasing the income tax. In general, the residents of Oregon prefer this method as they will always know what price to pay and what money they will receive in their paychecks.
Before Sisters became an incorporated community, Native Americans and fur trappers frequented the area. Their trails were trodden on for years. To this day, some of their trails are still in existence and useful to hikers and explorers.
It was the creation of Camp Polk that helped get Sisters on the map. This military camp was erected during the mid 1860s along what was once known as Squaw Creek. (Today, it is called Whychus Creek.)
In 1870, a homesteader named Samuel M. Hindman made a claim to the newly abandoned campground. He built a general store and post office on this claim.
A few more years went by when in 1888 the post office was moved three miles south of the Camp Polk location. People suggested the location be referred to as, "Three Sisters". However, the proposed name was simplified to just "Sisters". Thus, the town of Sisters was born. It steadily grew since it was conveniently located at the intersection of two well-travelled roads. Once the town gained significant success, it was officially incorporated in 1901.
The town earned most of its income through lumber work until the 1960s. When the lumber business faded in Sisters, tourism became the biggest money earner as more travellers realized the beauty and wonder of the area. And to this day, tourism is the town's main income.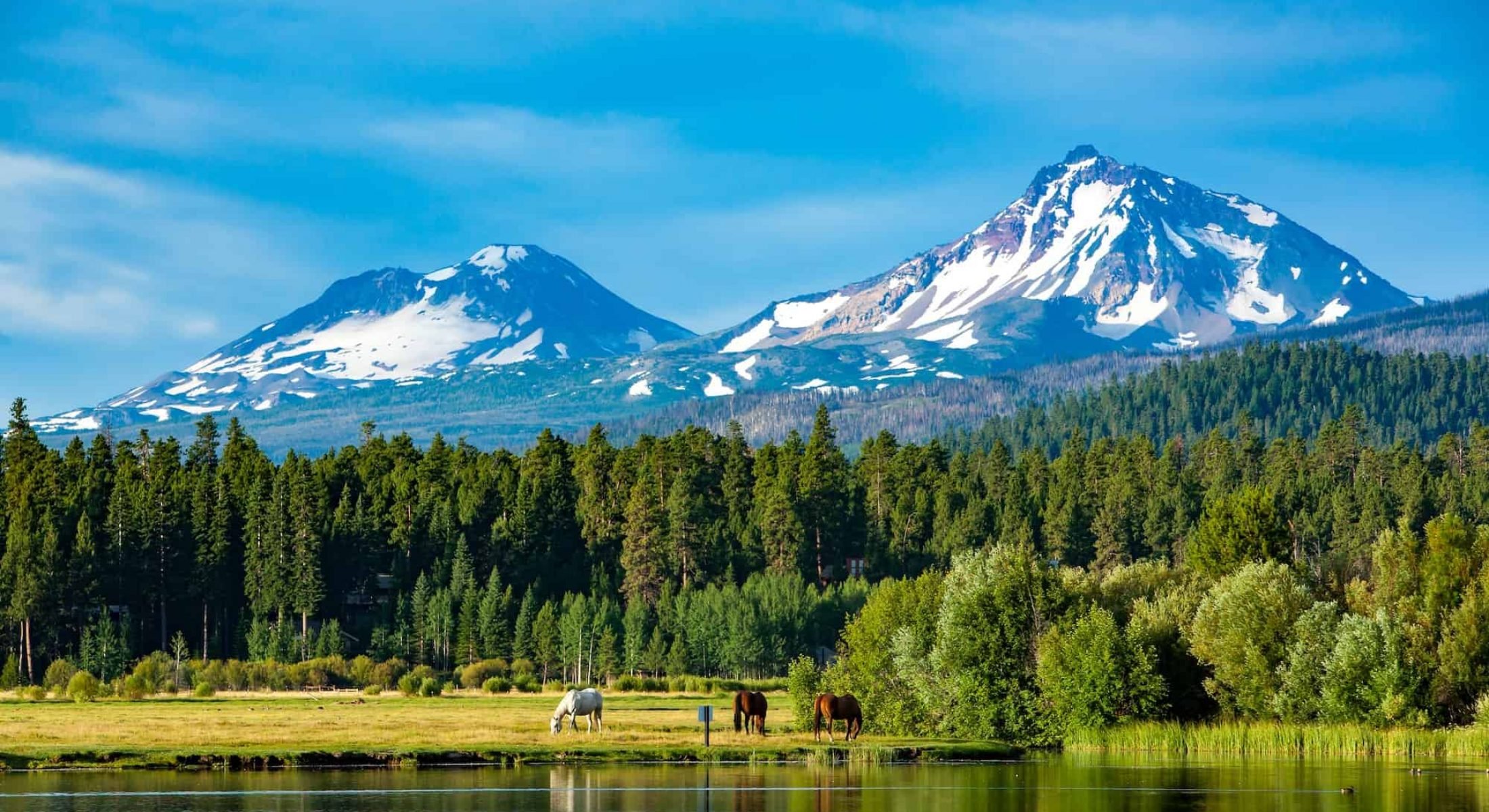 Real Estate and Relocation Considerations in Sisters
The median home cost in Sisters is higher than other areas of the state due to its remarkable location. The median home cost for a single-family, three-bedroom home is approximately $448,000. In my opinion, it's a great deal considering you have the majestic, white-peaked mountains standing boldly in the background!
For the last decade, home appreciation values have been 41.6%.
Another reason I believe the $448,000 median home cost is a real deal is the average age of said homes in Sisters. The average home age in Sisters is only 15 years! Folks, that is a new house. Younger homes mean lower maintenance costs. Think about it: no piping, flooring, roofing, or plumbing will need replaced upon moving day.
If you're not interested in purchasing a home right away, you may consider renting a home. Quite a few residents in Sisters rent their homes: 36% to be exact! That's a considerable portion of the population. The town offers a wide variety of apartments and houses for rent.
Be sure to also read our Sisters Oregon real estate guide.
Explore Neighborhoods in
Sisters
Moving to Sisters can be a big decision for many, especially families. It is always good to research the different areas and neighborhoods before you make any kid of move. We are here to help with that process.
Below is a list of different neighborhoods in Sisters. Each neighborhood has a link to a page further talking about it.
We Look Forward to Seeing You in Sisters!
Now that you've been given the brief overview of the lovely town of Sisters, what do you say? Are you ready for that move? Spend the day in Sisters and think about it more. You'll meet friendly people and make new friends. Sisters, Oregon has so much to offer!
While the Oregon coastline is rural compared to other coastlines in the United States, more people are moving to the area.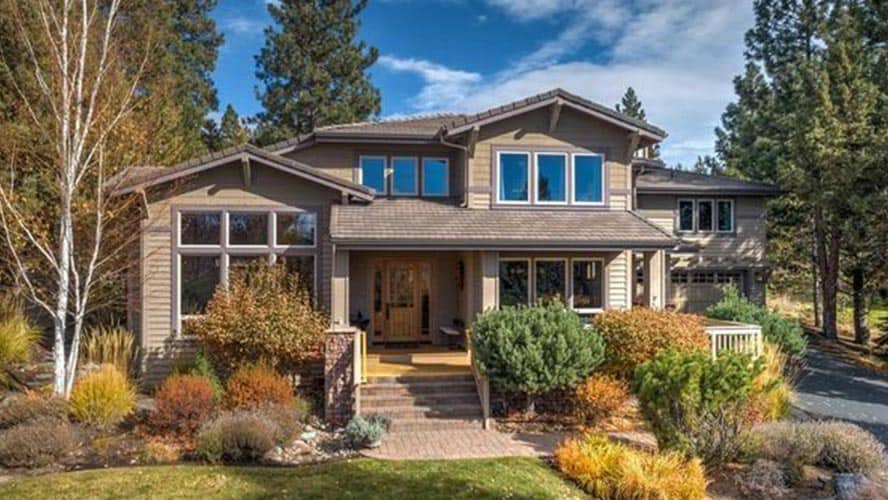 Many people visit Central Oregon every year and fall in love with its spectacular views and acres of untouched land.
Can You Camp on Oregon Beaches? Some of the most beautiful and scenic beaches in
Read More »